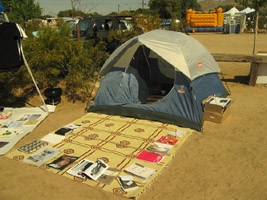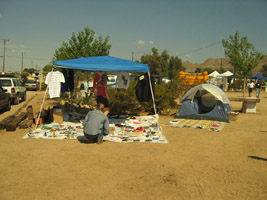 ooga booga & art swap meet
at high desert test sites 5, may 6-7, 2006
Featured booths by:
Textfield—Williams Building Studios—Ooga Booga & Art Swap Meet

Featured art works, editions, etc. by:
Mason Cooley—Arthur Ou—Benjamin Butler—Anne Eastman—Marie Jager—Alice Konitz—Becca Albee—Andrew Kuo
Ruby Stiler—David Sherry—Matt Connors—Sara Clendening—Donald Morgan—Dani Tull—Pentti Monkkonen—and more TBA....

Books, music, clothing & products, etc. by:
JP Munro—Calvin Johnson—Nick Relph & Oliver Payne—My Barbarian—Lucy McKenzie & Paulina Olowska—Bless
Mark Leckey—Purple Institute—Mended Veil—Ports Bishop—Capricious—Opening Ceremony—Paperrad—Oumi
Chris Johanson—Ryan McGinley—Amy Yao—Eric Wesley—Steve Dore—Pruess Press—Jim Drain—Dean Sameshima
Jeremy Deller—Lesley Vance—Frances Stark—Becca Albee—Slow & Steady Wins the Race—Spider and the Webs
Nate Harrington—Milano Chow—Misha de Ridder—Girls Like Us—The Colonial—Mari Eastman—Cory Arcangel—Fluo
aNYthing—Marc Hundley—Shawn Mortensen—Andrew Jeffrey Wright—Pablo Bronstein—Mary Ann Heagerty—plus more TBA.......