<ooga booga newsflash> <click here to return to main page> <click here for news archive>
October 26, 2006
+++++++++++++++NO AGE FRIDAY!+++++++++++++++++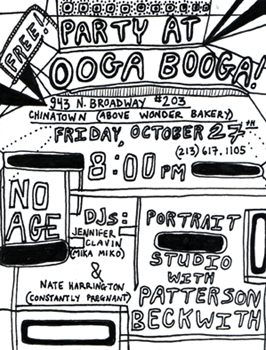 Quite possibly our last courtyard party of the year! No Age plays at Ooga Booga Friday evening, October 27, with DJs Jennifer Clavin (Mika Miko) & Nate Harrington (Constantly Preggers), also polaroid portrait studio by artist Patterson Beckwith...party starts at 8pm, free!
++++++++++++HALLOWEEN AT KEEP!+++++++++++++++
Recommended Halloween night activity in LA, with our ladies at Keep! Rumor has it there will avocados aplenty! See you there!


++++++++++++KIOSK AT OOGA BOOGA!+++++++++++++++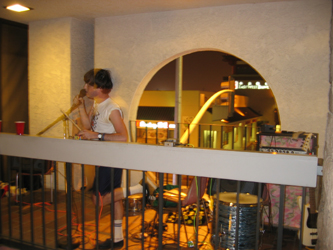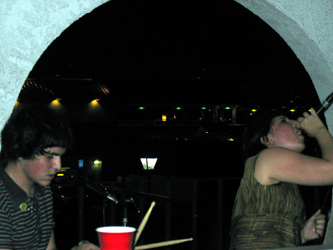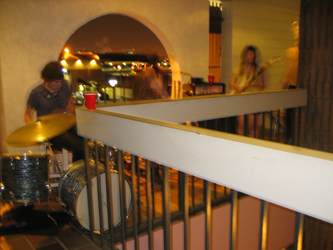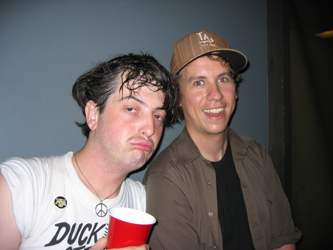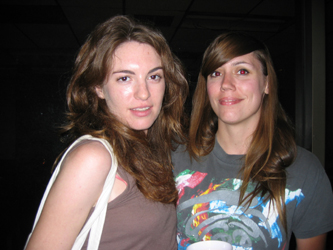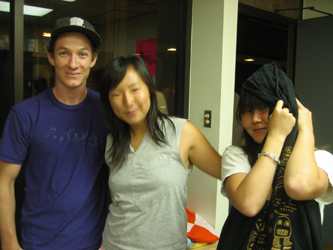 Kiosk + Always from Australia were both amazing!!! Come to the next show— NO AGE on friday october 27th!
+++++++++++++++INTERN FOR US!+++++++++++++++++
Wanna be an intern? We're always taking applications if you're interested in helping out with basic shop stuff and special store projects, 6-20 hours per week. If this sounds appealing to you, please click for more info.
++++++++PARTIAL STOCK LIST, aka IN STORE NOW!++++++++
+WEB-SHOPPING SOON TO COME, SHOULD BE READY IN A WEEK OR TWO+BUT FOR NOW IF YOU WANT SOMETHING JUST ASK+
+AND SEND US AN EMAIL IF YOU HAVE QUESTIONS OK!+
++++++++++++++++CLOTHING+++++++++++++++++++
+OPENING CEREMONY fall 06 clothes are here!
+BLESS new clothes and accessories! soccer bags, shorts, buttons, pins, etc.!
+OUMI fall 06 is here!
+NO AGE handkerchiefs, rainbow tees back in stock!
+SHOBO SHOBO handmade heat-press sweatshirts!
+MEGAN PLUNKETT handscreened tees!
+KEEP COMPANY shoes are here! get the benten, duke & ramos on sale!
+ANDREW KUO morrissey & smiths googly eye t-shirts!
+LUCKY DRAGONS t-shirts by luke fischbeck, cool multicolor screenprint!
+OPENING CEREMONY spring 06 collection, plus diamond and woven hoodies! now candles too!
+ANDREW KUO genius "spaghetti & meatballs" t-shirt!
+MARI EASTMAN hand-painted one-of-a-kind top by the l.a. artist!
+JENNIFER CLAVIN handmade bags, each one unique!
+aNYthing logo tees, bandanas, patches, buttons, etc. all here!
+CORY ARCANGEL hand-stitched "mario clouds" t-shirts, a few left!
+MARC HUNDLEY for aNYthing beautiful "mexico/morrissey" t-shirts!
+KEEP COMPANY t-shirts and sweatshirts each designed by a different artist!
+PENTTI MONKKONEN "we don't die, we multiply" cockroach artist tee, made to order!
+TYDE commemorative opening ceremony/ooga booga/tyde t-shirts!
+RYAN MCGINLEY for aNYthing tees!
+PAPERRAD handpainted shirts in stock!
+JEREMY DELLER artist t-shirts in stock!
+ANDREW JEFFREY WRIGHT "mr. e.t." shirt, almost gone!
+WILL LEMON III tshirts & sweatshirts! rad hand-screened designs!
+OUMI collection from local designer mayumi date! spring/summer 06 is here!
+OOGA BOOGA store t-shirts & sweatshirts!!! baby shirts temp. out of stock!
+BLESS from berlin/paris, including 3-D t-shirts, button pins and wooden jewelry!!!!
+SHAWN MORTENSEN t-shirts, featuring his iconic hip-hop photos!!!
+TAGBANGER spring 06 t-shirts are here! & bajas too for summer!!
+BON&GING a few classic pieces still available!!!
+BENJAMIN CHO handmade t-shirts each one is different!
+SLOW AND STEADY WINS THE RACE sweats collection & bags by mary ping! hard to keep in stock!
+FLUO handcrafted leather bags, keychains & journals from berlin!
+MIKE MILLS humans 01 "bag" bag still available!
+MUFFY BRANDT handmade crazy tights!
+SEE ALSO: art editions section below for artist t-shirts!
++++++++++++BOOKS & PUBLICATIONS+++++++++++++++
+HERE & THERE mag from japan issue 6 by nakako hayashi w/ yoshimi, elein fleiss, bless, takako minekawa, yurie nagashima, anne daems, dominique gonzalez-foerster, yukinori maeda, & more!
+PABLO BRONSTEIN new book, self-published edition of "vathek" by william beckford!
+SUSANNE BURNER "vanishing point" how to disappear from america book!
+GIRLS LIKE US issue #3 is here!
+FEMINISTS AGAINST BUSH zine #2!
+PERKS AND MINI new book from P.A.M. australia with nieves!
+MARIE JAGER "purple cloud" screenplay book from the california biennial at ocma!
+PABLO INTERNATIONAL magazine from blo de la barra in london!
+TOTALLY #2 "funky forest" zine by luke fischbeck of lucky dragons!
+MATTHIAS CONNOR "end of the line" short stories!
+SARA RA RA "nefertitis zine" by sara anderson!
+NATE HARRINGTON "fall/winter" zine, interviews avi cohen, brian degraw, excepter & more!
+CERITH WYN EVANS "curves of the needle" box set!
+JUN TAKAHASHI "a magazine" issue curated by takahashi of undercover!
+BAS JAN ADER "please don't leave me" book!
+BUTT MAGAZINE issue #17 is out!
+TAKASHI HOMMA "tokyo & my daughter" photo book!
+YOSHIMI (of the boredoms, ooioo, free kitten) new zine is here!
+LORI D "orcas" zine w/ true motorcycle stories!
+STELLA MAGAZINE issue #5!
+DEANNA TEMPLETON "blue kitten photos #3" zine!
+RICK MYERS paper poems zine!
+BARR TOUR PHOTO ZINE by david horvitz!
+NORTH DRIVE PRESS #3 is finally out! yay! art multiples & interviews in a beautiful box set!
+LINDER "works 1976-2006" three decades of art by legendary ludus, in a heavyweight book!
+ANDREW JEFFREY WRIGHT "art is a smile that gives you a hug" zine, ed. 150!
+GABRIEL POMERAND "saint ghetto of the loans" 50's lettrist art+poem book back in print!
+IAN SVENONIUS "the psychic soviet" book of essays, early copies are here!
+CAPRICIOUS #4 new issue is out!
+DOT DOT DOT new issue #12 is here!
+MELISSA IP new zine of rad, scary drawings!
+BEN JONES & FRANK SANTORO "cold heat" issue 1 comic book!
+SUMI INK CLUB fold-out zine, & "treasury of american birds" by sara anderson!
+RECUERDOS IN INK "insider art" drawings from prison by 3 artists at pelican bay prison!
+DARREN BADER "james earl scones" book, pub. by kordansky & rivington arms!
+JRP RINGIER select titles, eg. "ethnic marketing", "de rijk/de rooij", and more from switzerland!
+RIRKRIT TIRAVANIJA "retrospective/tomorrow..." book featuring three great "scripts" about his work!
+SLAVE zine from australia!
+AFTERALL #13 is out!
+BLACK DICE "gore" art book in collabo w/ jason frank rothenberg!
+DAZZLE DOGS book feat. art by clare rojas, andrew jeffrey wright & erin rosenthal!
+ANP QUARTERLY issue 4 is here, free as always!
+SIMON EVANS new book "in the country of uncles"!
+LIBRARY RELOCATIONS edited by ian hunt!
+oVER magazine from thailand by rirkrit tiravanija & plan.b, large format w/ three cds!
+DIPPER dale shaw's brilliant 90's zine now reprinted as a "best of" anthology, hilarious reading!
+PORTS BISHOP "future friends" book w/ providence/east-coast centered music nature fest pics!
+DANI TULL "subterranean river caverns of los angeles" zine w/ cd!
+JIM DRAIN "chief shorty" zine!
+MISHA DE RIDDER "wilderness" photographs of u.s. forests w/ pull-out forest wallpaper!
+NICK RELPH & OLIVER PAYNE latest book w/ film transcripts, great essays & cool pics!
+TARA SINN "siouxsie eyes" zine!
+PSYOP post-9/11 actual propaganda flyers us army dropped in iraq & afghanistan!!!
+MIKE TAYLOR zine "scenery #19" from providence!
+COLONIAL magazine issue #1, from los angeles by curtis winter!
+ASHLEY THAYER handmade book "patience for pleasure", edition of 10!
+JUSTIN ALLEN & VI THUC HA "diamond dog and the blob" handmade pop-up story!
+ANDREW KUO new artist book "g.b. part 2"!!!!
+DONALD URQUHART "a present from the zoo" book w/ tear-out posters every page!!!
+DOT DOT DOT issue 11 is here!
+MILANO CHOW "class notes" drawings zine!
+ANDREW JEFFREY WRIGHT new zine "29'000 brains", by nieves switzerland & prints (see below)!
+LUCY MCKENZIE artist books, lps & "brian eno" box is here!
+GEOFF MCFETTRIDGE books "it looks like a smile" (nieves), "hand on string", mind-trip vhs!
+AMRA BROOKS novella "california"!
+JD SAMSON lesbian utopia calendar, still a few left, collect 'em all!
+LIONS DEN best zine ever from our new neighbors, gq asians!!!
+CHRISTIAN JANKOWSKI "magic circle" book!
+STEFAN MARX "i am starting to feel okay" book by nieves in switzerland!
+ART & LANGUAGE "homes from homes II" book!
+O SIRHAN O SIRHAN brooklyn-based music zine w/ interviews, art & photo diaries by bands!
+CHERYL DUNN "bicycle gangs of new york" book w/ dvd!
+LYRICS OF LUDACRIS letterpress edition by pruess press!
+LUKAS & STERNBERG books incl. isa genzken, cerith wyn evans, etc.!
+EDIE FAKE gaylord phoenix issues, & foie gras zines!
+SPIDER MAGIC mini-zine by s. & the webs, free w/ cd-r purchase!
+LTTR issue #4 in stock!
+THOM LESSNER various zines & prints (see below)!
+CAPRICIOUS issue #3, new photography magazine from amsterdam/nyc!
+RECREATIONAL DISCOGRAPHIES found record cover art-interventions from paris!
+TEXTFIELD issue #4, w/ bless spr05 lookbook collaboration!
+FREE RADICALS from paperrodeo people plus contribs from prisoners!
+PAPERRAD new book "BJ & Da Dogs" & Jacob's zine!
+FAMOUS magazine issue 7 is out, direct from tsunami-addiction paris france!
+TRINIE DALTON zine about werewolves w/ multiple contribs!
+HERE AND THERE japanese mini-magazine featuring fold-out poster & bless lookbook no. 24!!
+PUT ABOUT "a critical anthology of independent publishing" from bookworks uk!!!
+RENT-A-BENCH book documenting the 2002 l.a. public art project, art on bus benches!!!
+N55 book manual, instructions on how to make modules for living, furniture, even shops!!
+CATHOLIC hardcover is here, all art about cats! still a few copies left of the original zine too!
+A MAGAZINE curated by martin margiela!
+PAPERRODEO #19, tenth anniversary issue still available!!!
+FRANCES STARK "architect & the housewife" just in! "collected writing" back in stock!!
+JEREMY DELLER new "folk archive" book & "the uses of literacy" back in print!
+PABLO BRONSTEIN bootleg books of horace walpole writings, at a serious bargain price!!!
+EYE YAMATSUKA from the boredoms, new book from pam australia "weeooeem" is here!!!
+DESTROY ALL MONSTERS "geisha this" book, "swamp gas" ufo newspaper & "melts in your mind" sticker pack!!
+DEAN SAMESHIMA special limited edition versions of y.m.a.p. books w/ artist prints available!!
+EDGAR ARCENEAUX 107th street watts, ie. "every building on 107th st..." fold-out book is here!
+EDUARDO SARABIA "relacion de un interes" book, back in stock!!
+SIMON EVANS "notebook" artist's book, an page-for-page replica of one of his books!
+GEORGE PORCARI & MIRIAM NOSKE "memory verite" beautiful handmade book!! a low-priced cd-r of the images are available too!!!
+DEAN SAMESHIMA "young men at play" new 2-part catalogue from his current show in japan!!!!
+HAMBURGER EYES #10 new issue in the shop now!
+CHRIS JOHANSON small artist book "co-exist"!
+TERENCE KOH "50 most beautiful boy" artist's box w/ 3 books, 2 dvds, sculpture & more!
+MATHIEU MERCIER artist booklet!
+AND_AND_AND drawing papers!!
+RYAN MCGINLEY postcards, box set & new book, back in stock!
+JEFF WINTERBERG rat-a-tat-birds photo book documenting 90's underground music america!!!
+DIRTY DRAWINGS zine by james franklin and gang is here!
+LTTR #2 & 3 still avail. w/ cd feat. jd from le tigre, wynne from tracy & the plastics, & more!!!
+SAM MCPHEETERS 2005 calendars featuring his artwork! funny and free now!!
+++++++++ART EDITIONS, OBJECTS, ETC++++++++++++
+AMY YAO new paintings, photos, drawings!
+SAM GORDON "the lost kinetic world" dvd!
+PATTERSON BECKWITH styrofoam nightlights!
+MASON COOLEY "boomstick one" sculpture in the window!
+BRIAN CHIPPENDALE "american shit for brains" poster!
+PAPERRAD posters available too, by Jessica Ciocci, and by Ben Jones!
+DVD FRIENDS compilation video dvd featuring e*rock, lucky dragons, kites, shobo shobo & more!
+CHAMPION FINE ARTS catalog sets, ed. of 21 each w/ a unique artist-made bookcase-sculpture!
+DAVID SHERRY photograph edition of 5!
+NICK RELPH & OLIVER PAYNE poster prints available from their latest film "swoon soon"!
+RUBY STILER panorama view photos! hdts5 edition of 3!
+BENJAMIN BUTLER "greeting cards" gouache on cards edition!
+ARTHUR OU porcelain nut sculpture "on every new thing there lies already the shadow of annihlation"....oh-- so good!
+ANNE EASTMAN "optical cat" dvds available!
+JASON EBERSPEAKER drawings on paper & paintings from hdts!
+MATT CONNORS unique paintings on paper at a special deal!
+SARA CLENDENING bean paintings on canvas! magic beans, health food, etc.!
+ANDREW KUO brand-new "two gates" silkscreened print edition of 8! see also his new t-shirt!
+CORY ARCANGEL new poster & hand-stitched cloud tees!!!
+ALICE KONITZ rock candle sculptures!
+BECCA ALBEE photo print edition (wildflowers) & new chakra mist!
+PENTTI MONKKONEN "fuck bush car club" window plates are here!
+LIZ CRAFT motorbike posters "a real mother for ya" are in effect at a special low price!
+ANDREW JEFFREY WRIGHT prints: "pink cross", "something's happening" & "poop on my back"!
+THOM LESSNER van halen dancing hamburger prints!
+RYAN MCGINLEY "olympic swimmers" postcard set & regular postcards, still some left!!!
+ANDREW KUO limited edition posters! four new designs are here! so beautiful!!
+STEVE KEENE paintings based on record covers are free with a $10 purchase while they last!!
+MASON COOLEY "flying" dvd! 8 minute film featuring jorge pardo high in the skies...beautiful!
+SHADAZZ video compilation of collaborations between visual artists and musicians!!
+CHRIS JOHANSON "print set" of 15 variously-sized lithographs and xeroxes on plain, gloss and colored paper in an artist-made box, signed and dated!
+FRANKIE MARTIN mobiles are hanging out in the shop! good-lookin' and fun!!!
+ JP MUNRO picture disc with secret bootleg!
+PENTTI MONKKONEN "adios pendejos" ceramic steiners!!!
+PATTERSON BECKWITH clocks made from found objects!
+ANDY OUCHI amazing photographs from the bears series! yes, the animals!
+MATT KEEGAN photograph edition!
+LESLEY VANCE handpainted eye&finger rocks! scary, but so beautiful!!!
+BECCA ALBEE chakra patch edition, to smell like a hippie!!
+FRANKIE MARTIN one-of-a-kind 7"x7" drawings!
+PENTTI MONKKONEN "we don't die we multiply" t-shirt, from his cockroach performance!!
+LOS SUPER ELEGANTES hand-drawn t-shirts!
+STEVE HANSON & FRANCES STARK baby slogan tees, each one is different!
++++++++++++++++MUSIC+++++++++++++++++++
+WEDDING METAL comp cd w/ mika miko, abe vigoda, hello astronaut etc.!
+RARE YOUTH compilation of providence bands!
+BARR newest "the song is the single" 7" on ppm!
+POCAHAUNTED "moccasinging" cassette!
+MIKA MIKO "c.y.s.l.a.b.f." lp on ppm!
+SOILED MATTRESS & THE SPRINGS cds, lps, t-shirts!
+THE PUNKS cd-rs & tapes from olympia, wa!
+ISSEI SAGAWA single on teardrops/youth attack!
+SHEARING PINX "poison hands" 2x mini-cds, on nnf!
+XIU XIU 7" out on dogg and pony!
+NO AGE bandanas, tees, & dvd-r's from the west coast's best!
+LUCKY DRAGONS cds "a sewing circle" and "mini dream island"!
+GLACIERS "heart stopping drums of passion" cassette tapes!
+JEREMY DELLER <this is us> music from appenzell switzerland, compilation of all locals, rad!
+FAMILY OF EVE 45 single "i want to be loved by you" for those who dig disco crates!
+HOLY SHIT cd "stranded at two harbors" from uuar!
+IMPALAVILLE low-rider oldies LA-style mix cd from jonny paycheck!
+SILVER DAGGERS "bored fortress" 7" from nnf, and live cd-rs!
+MIKA MIKO their first 7" back in print, and handmade tapes, buttons, back in stock!!
+MODERN REVERIES new cd from oakland's finest! chris (v.c.), layla & miya!
+BONGO RANDY "digs deep ladies" cassette tape!
+DAVID PITTS "essential drinking alone" r&b from chess label mix cd!
+LIFT BOYS eye yamatsuka's solo 12" ltd pressing just out from brown sounds nyc!
+BONNIE CAMPLIN "heavy epic" lp from decemberism, w/ great artwork by enrico david!!!
+SILVER DAGGERS single is here!
+CALVIN JOHNSON mixtapes w/ new: 60's women int'l, japanese new wave, soviet rock & pop!!
+SPIDER FRIENDS new compilation cd of spider & the webs plus projects w/ friends & zine!
+OLFACTORY RECS releases: "under 21" comp, hello astronaut, sharp ease albums, all here!
+PLASTIC LITTLE cd from nyc brodeo compound aNYthing is here!!! it's the rebel familia!
+MILKYMEE from sweden via paris! sweet songwriter soul sounds...!
+LAVENDER DIAMOND cd ep "cavalry of light"!
+POST PRESENT MEDIUM releases by wives, abe vigoda, soddamn inssein, mika miko, etc.!
+BARR new album on clear vinyl by DNP records is here!
+GROWING k. doria + j. denardo make awesome greenery cover art w/ even awesomer sounds!
+MAKE-UP long lost album is out now!
+EXTREME ANIMALS 12" and cd-rs are here!!!
+WIVES 7"s & 12"s in stock, incl. limited euro-tour singles!
+OCTIS 7"s in stock!
+ANIMAL COLLECTIVE "i'm not" single on vinyl & cd from united bamboo's uuar sounds!
+ROTFLOL cd-r's are here too!!!
+PRUESS PRESS new cds by mr. macabee & tif are here!
+SQUIDS "shouts" cd from amazing all-girl boston band feat. ex-petty crime, meltdown, etc.!!!
+FAV MONO 7" ltd. edition scottish import, jeremy deller & dj jonnie wilkes doing "digital beard" & "corporate rock must die"!!!
+NEW ENGLAND ROSES limited 7" brendan fowler (aka BARR), sarah shapiro & jd samson's new band!
+MY BARBARIAN "cloven soft shoe" cd is finally out and available here of course!!
+BLOODLINES cd from nyc band, feat. members of crainium, meltdown, and wicked!
+SPIDER & THE WEBS awesome tapes and cd's from tobi vail's bumpidee label!
+MELTDOWN "the map" lp by the amazing and short-lived d.c. band, from a limited edition of 75 handmade tile covers....yes, tile!!
+ NOVA POPULARNA compilation lp by visual artists lucy mckenzie & paulina olowska on the decemberism label, featuring donAteller (mark leckey!), bianca glazebrook, mathilde rosier, nightshift and marcel dutka!!!
+EMOTIONS is frankie martin and tyson reeder's band!! handmade cd's are in stock!!!
+ROTFLOL seven-inch single by jacob from paperrad!!!!!!!
+AL LARSEN "the hardline according to danny & the dinosaur" cd is here!!
+PRUESS PRESS cds!!! good tunes from yr fave c-town locals!
+BAD WASTE limited seven-inch release on white vinyl!!
+FARMER DAVE'S HOT NUTS cd mix! made by dave scher of all night radio & beachwood sparks!!!
+UNITED BAMBOO "they keep me smiling" cd compilation w/ samara lubelski, white magic, gang gang dance, black dice, animal collective, blood on the wall, delia gonzalez & gavin russom, etc!!!
+RUSTY SANTOS solo album, from animal collective/black dice/terrestrial tones family!
+CALVIN JOHNSON mixtapes! from his giant record collection!
+HOUSING PROJECT 12" single "smoke machine" is spencer sweeney & ben brunheimer!
+WRANGLER BRUTES debut cassette tape, seven-inch, and "zulu" on vinyl all available here!
+PLUS many more of ooga booga's favorite records in always in stock for your s.s. pleasure!!!!!
++++++++++++++ACCESSORIES+++++++++++++++++
+OPENING CEREMONY soy-wax candles in three scents named after olympic cities!
+SARA ANDERSON hand-drawn bird pins! each one is different!
+MENDED VEIL the best jewelry ever, by mr. danny mcdonald!
+aNYthing handkercheifs, patches, buttons, etc. all here!
+BLESS wooden jewelry in ebony and rosewood, carved to look like metal chain!!!
+ANDREW JEFFREY WRIGHT funny buttons! still a few left!!
+MODERN REVERIES tote bags!
+MARY ANN HEAGERTY popular "visionquest canteens" & blood-free jewel pendants!
+SLOW AND STEADY WINS THE RACE canvas "designer" handbags by mary ping, incl. "ultimate bag"!!
+SPIDER AND THE WEBS 4-button set! get them all to go with their awesome cd-rs & tapes!
+FLUO handmade fine leather goods from germany! keychain, tres fluo bag, & journals!
+OUMI cute cute necklaces at a new low price! choose from "lips" & "mickey"!!!!!!
+DOGG AND PONY plush horse guy!!
+MIKE MILLS humans01 green "bag" bag still available, for now!
+MY BARBARIAN handmade masque!
+BLACK NOIR keychain jewelry and more ceramics by anna sew hoy!

<click here to look at "old news">
<click here to go back to the front page>