<click here to return to front page>
January 24, 2008
++++++++++++RIEPENHOFF SNACKYLAND!+++++++++++++
Please join us for a reception for Sara Clendening's sculpture exhibition at the John Riepenhoff Experience (Ooga Booga all-natural edition), this Friday January 24, 2008! This is Clendening's first solo gallery show in Los Angeles, and will feature works such as Screw U, Tower of Power, Yr Head, and many more! This is taking place inside our shop! Just come. 7-9pm, light refreshments, meet the artist!
(Below: John Riepenhoff Experience circa Oct. 2006 in Milwaukee!)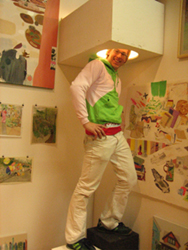 ++++++++++++++GO TO BOOTH 43!++++++++++++++++
We are in the Art LA fair this weekend Friday-Sunday! Booth 43! Come see us we'll have special goods, including...art! Click here for more info.
+++++++++++++WINTER CLEARANCE !+++++++++++++++
Please check our webshop for special discounts on our winter seasonal fashions...up to 60% off!
December 22, 2007
+++++++++++EXTENDED HOLIDAY HOURS!+++++++++++++
We are open later than usual on Saturday and Sunday this weekend, till around 8pm...and Monday Christmas Eve we'll be here from noon till around 4pm!
December 12, 2007
++++++++ANP QUARTERLY & POM POM PARTY!++++++++++++
This Friday night we celebrate the preview-release of ANP Quarterly issue #9 and our new window unveiling by Jesse Spears! It will be a pom-explosion. Abe Vigoda is playing and The Sads (Aaron Rose, David Scott Stone, Dan Monick, Aska Matsumiya) will be the group DJs of the night! Plus—festive Nordic delights including Glogg and gingerbread cookies, courtesy of our intern Ola!

December 1, 2007
+++++++++++WE'RE GOING TO MIAMI!+++++++++++++++
Come visit us at NADA art fair in Miami Dec 4th-9th! We're in the publications section booth P10! We'll have new books, music, art editions, t-shirts, jewelry and more!


New multiples by: Jim Drain, Becca Albee, Amy Yao, Matt Keegan, Chris Johanson & Jo Jackson, Assume Vivid Astro Focus, Leif Goldberg, Ara Peterson, Terence Koh, Dash Snow, Arthur Ou, Scott & Tyson Reeder, Stephen G. Rhodes, Sumi Ink Club, Andrew Jeffrey Wright, and more!
++++++++++++++CLOTHING DEALS !+++++++++++++++
Psst—Check out our webshop for some early discounts on selected seasonal clothing items! Click here....


November 15, 2007
++++++++++NORTH DRIVE PRESS LAUNCH!+++++++++++++


Alright! For our second publication release of this month, we're having a reception for the amazing North Drive Press annual box set of artist multiples and interviews, issue #4! They've got a great lineup once again...come join us this Tuesday November 20th 6-8pm for some snacks and refreshments!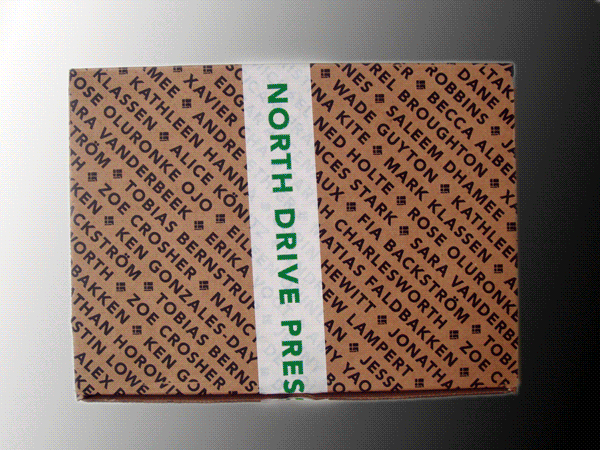 November 8, 2007
+++++++++++++DADDY #3 PARTY!++++++++++++++++++
Coming up on Thursday Nov. 15th—the official launch party for Peres Projects' Daddy magazine issue 3: Fleur du Mal! This issue is guest-edited by artist Kirstine Roepstorff to resemble a women's fashion magazine. Live music by All Neon Like, and DJ Will Stangeland (of Silver Daggers)!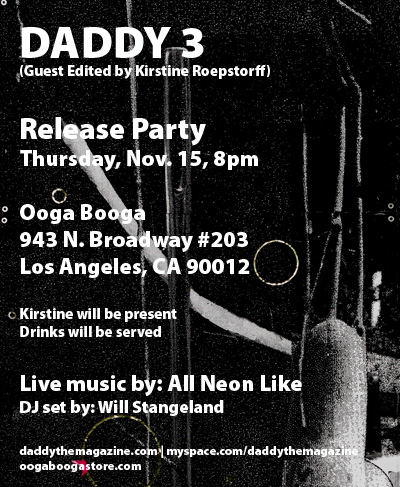 September 4, 2007
+++++++++++BIKRAM SUNDAY REDUX!++++++++++++++++
Major thanks to everyone for braving one of the hottest weekends of this year to celebrate the release of Dot Dot Dot #14, & our new window, & seeing Lucky Dragons play! Glad we had A/C in the shop...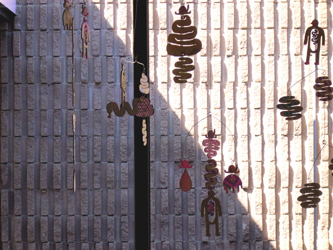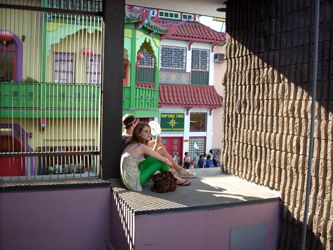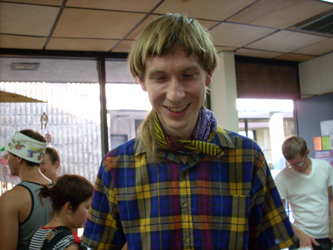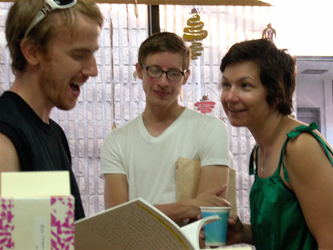 SSSSSSSSSS
August 30, 2007
+++++++++LUCKY DRAGONS DOT DOT DOT!++++++++++++
Party this Sunday, September 2nd at the shop! Window installation by Sumi Ink Club! Dot Dot Dot #14 magazine release! Live performance by Lucky Dragons in the courtyard! DJ Frances Stark! 3-6pm! Free!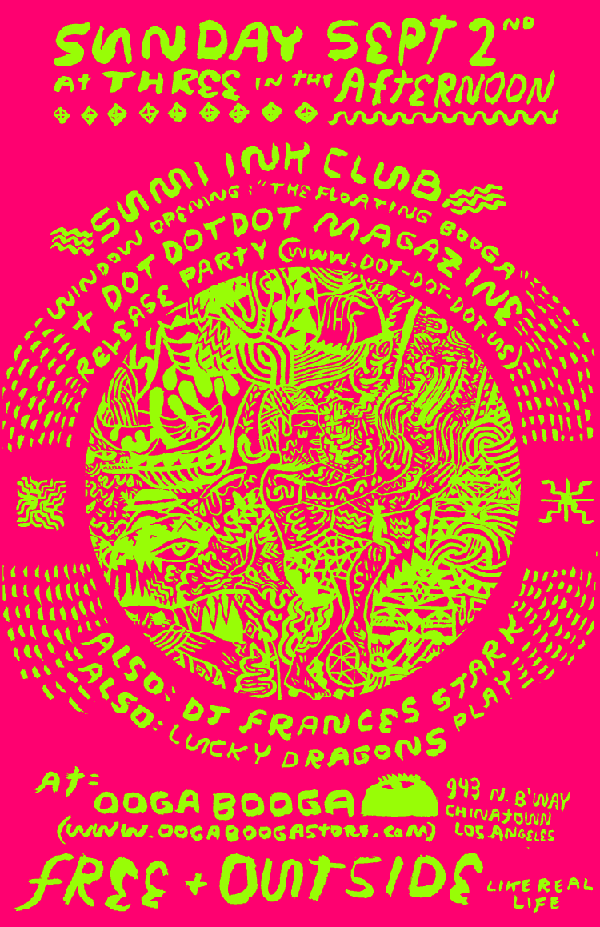 +++++++++++++MENOMONEE VALLEY!+++++++++++++++
PS—come to Chinatown Saturday evening Sept 1st to check out the awesome art show by Tyson Reeder (of General Store Milwaukee, Cookies, Emotions sneakers, etc.!) at Jack Hanley across the walkway from us! They built a piano in there!


edit (9/4/07): for those of you who missed this epic opening, here's a video clip courtesy of snacky c of reeder bros' performance! watch the whole thing!

+++++++++THE GOLDEN AGE HAS ARRIVED!+++++++++++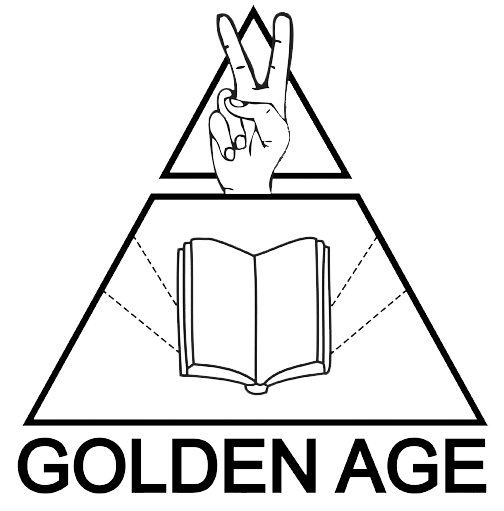 Speaking of the Midwest, an awesome new store is opening in Chicago at the exact same time as our party this Sunday! It's called Golden Age and it's run by our longtime former intern Martine Syms (pictured below at our anniversary party with her sis)! We're so excited for her—if u are in Chi-town please check it out and buy lots of stuff!
+++++++++++++ANNIVERSARY RECAP!+++++++++++++++
Thanks to everyone who came out for our 3-year anniversary! It was alot of fun...feel free to click on these pix for even more pix!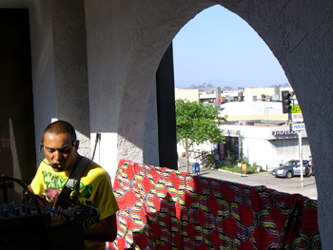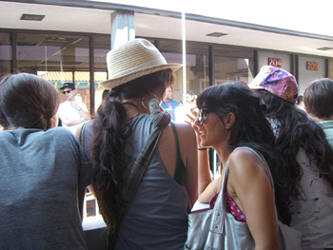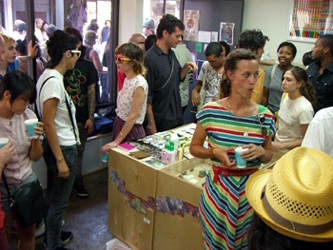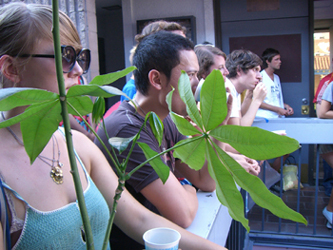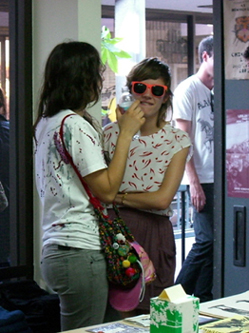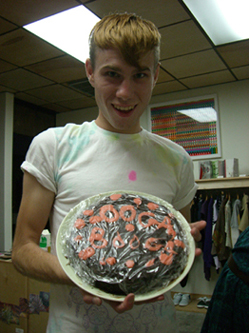 July 24, 2007
+++++++++++++3-YEAR ANNIVERSARY!+++++++++++++++
We are now officially 3 years old! Party this Sunday afternoon in the shop's courtyard, featuring live music by Soft Circle (Hisham Bharoocha from Black Dice, Pixeltan, Lightning Bolt, etc.) & High Places (Mary + Casual Rob from Bad Waste)....plus DJ's Sara Clendening & Eric Wesley! July 29th, 3-7pm, free!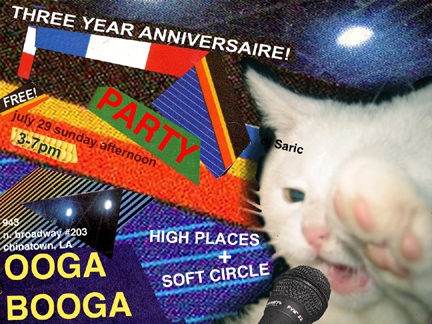 SOFT CIRCLE is Hisham Bharoocha, formerly of Black Dice and Lightning Bolt. Hisham recently served as musical director for the legendary 77 BOADRUM event, a composition for 77 drummers by the experimental Japanese music group the Boredoms. He has performed at the Museum of Modern Art in New York City in conjunction with Doug Aitken's video piece Sleepwalkers, and at D'Amelio Terras (NYC). As a visual artist, Hisham has been included in shows at Deitch Projects (NYC), John Connelly Presents (NYC), Yerba Buena Center for the Arts (San Francisco, CA), De Vleeshal (Middelburg, the Netherlands), and the Watarium Museum of Contemporary Art (Tokyo, Japan).
HIGH PLACES is a duo from New York City. They have performed at John Connelly Presents in New York City (inside an Assume Vivid Astro Focus installation), at the Proposition Gallery (NYC) in conjunction with the Hooray!!! exhibition, and at Susan Cianciolo's screening of "1960's Butterfly Girl" at Location (NYC). High Places recently performed a sunrise solar-powered show at Solar One (NYC).
June 30, 2007
++++++++++++SPECIAL SUMMER HOURS!++++++++++++++
Ok so we've extended our hours further, now open more days for the summer! Tues-Sun 12-7, Sun 12-5! Come visit us!
+++++++++++++MELISSA IP WINDOW!++++++++++++++++
Our July window is done, with Ghostface paper dolls by Melissa Ip!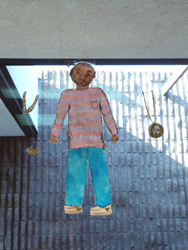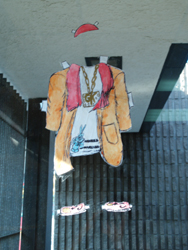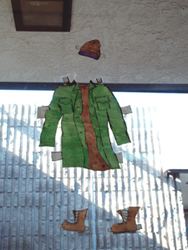 Dioramas are rumored to follow.....
June 16, 2007
++++++++++++++++SUMMER HOURS!++++++++++++++++
Oh yea— we are going to be extending our hours for the summer! Right now we're starting out by adding Sundays to our schedule (so it's now Weds-Sun 12-6pm)...and we plan to add more days/hours soon! Any suggestions, let us know!
+++++++++++++BAG SET COMING SOON!++++++++++++++
In the pipeline...No Age & Ooga Booga are working together on a "box set" of their 5 vinyl releases that will come in a special tote! This "bag set" will be a limited edition of roughly 25 copies, so please click this link here to reserve a set!
++++++++++++++SOILED TIMES REDUX!++++++++++++++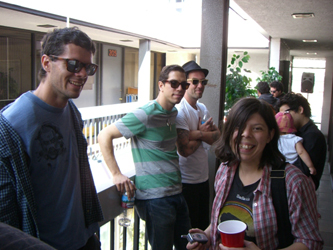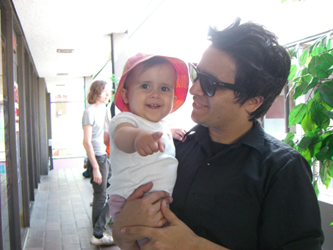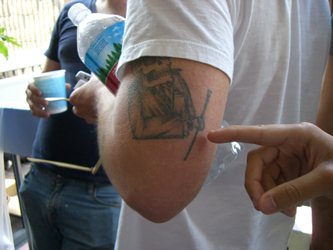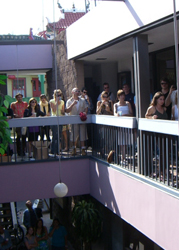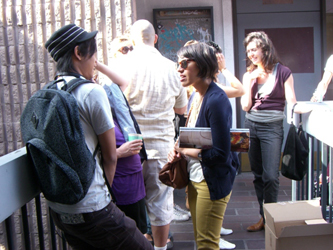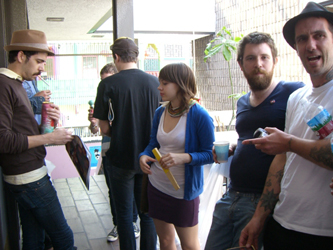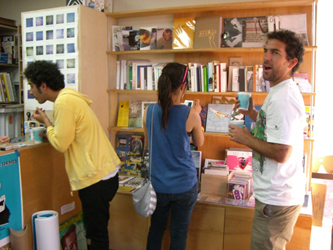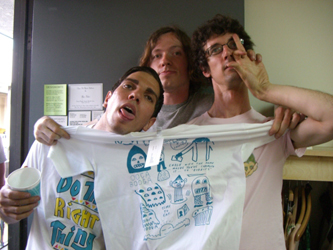 ....thanks to everyone for coming & of course to the dudes for giving us such awesome soiled memories!
++++++++++++CHECK OUT OUR WEBSHOP!+++++++++++++
+CLICK HERE TO GO TO OUR WEB-SHOP NOT EVERYTHING IS UP BUT WE ARE UPDATING IT WEEKLY.........BELOW ARE SOME RECENT ADDITIONS TO OUR PHYSICAL STORE:
+BLESS new accessories in stock including pins, safety pins, bracelets!
+STEVE DORE t-shirts back in stock, including the popular onesies!
+MY MATERIAL shannon ebner & erika vogt's "comm no comm" cd!
+GIRLS LIKE US issue 5 feat. caron geary, ariel schrag, and more!
+HIGH PLACES new 7" from rob (bad waste) & mary!
+SILVER DAGGERS cd-r's back in stock! & their rad new album too!
+NO AGE t-shirts coming back in stock & limited box set coming soon!
+LISA ANN AUERBACH & SHARON LOCKHART collabo t-shirts!
+SLOW AND STEADY WINS THE RACE color kits are back!
+LAURA KLEGER basra burning cyanotypes!
+DAVID SHERRY a.p. c-print photos! sunburn, ouch!
+SADIE BENNING "suspended animation" book!
+LIZ CRAFT monograph published in switzerland!
+CALVIN JOHNSON new tape western country to make 24 titles available!
+MICHELLE ABELES framed mini photo set!
+JUSTIN BEAL "gladys" houndstooth book & stickers!
+VIOLET HOPKINS photo stickers!
+MARTINE SYMS religious tracts!
+LUCKY DRAGONS new record in stock!
+PETROVA GIBERSON two new zines!
+REKA RESINGER photo set!
+AVIGAIL MOSS "stolen letter" free poster!
+PIERO GOLIA "can pipe" editon avail!
+ANDREW KUO new beautiful artist book "dot dot dot"!
+BJORN COPELAND "color slide" print!
+and more, as always! May 29, 2007
++++++++++++SUNDAY AFTERNOON PARTY!+++++++++++++
Party this Sunday afternoon June 3rd, in the Ooga Booga courtyard! Live music by Soiled Mattress & the Springs (NY's jazzy pop kool kats, featuring Aviram Cohen, Matthew Thurber, Peter Schuette), and tunes by DJ Christina Billotte (Casual Dots, Quix*o*tic, Slant 6)! FREE, 3-6pm!

May 12, 2007
+++++++++++++SNACKY C WINDOW IS UP!+++++++++++++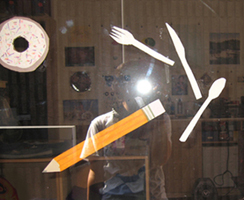 Come by and check out Sara Clendening's new window...by Ooga Booga's resident snackmaster! And then head to the desert for our art swap meet, which is happening Sunday, 12-4pm in Joshua Tree for High Desert Test Sites 2007! (scroll down for the details...)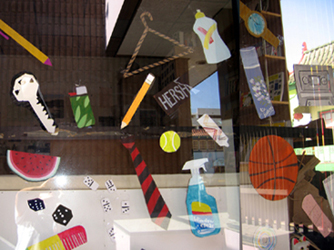 ++++++++++ART SWAP MEET AT HDTS 07!++++++++++++++


Once again we will be doing our annual art swap meet at Andrea Zittel's High Desert Test Sites in Joshua Tree, May 12-13!
Featuring booths by:
Alice Konitz+Katrin Pesch+Michael Rashkow; Mountain School of Art; Patrick Jackson+Matt Borruso; Little Chan; Chris Lipomi; Amy Yao+Wendy Yao; Sara Clendening.
Art editions by:
Pentti Monkkonen; Piero Golia; David Benjamin Sherry; Justin Beal; Mike E. Smith; Petrova Giberson; Shannon Ebner+Erika Vogt; Michele Abeles; Violet Hopkins; Marie Jager; Avigail Moss; Laura Kleger; Reka Reisinger; Donald Morgan; Scott Reeder+Tyson Reeder; Ida Ekblad+Marius Engh; Lisa Anne Auerbach+Sharon Lockhart; John Rand many more!!!!
+plus an assortment of goods from Ooga Booga!
For more info, click on the links below:
Art Swap Meet 2007
High Desert Test Sites


Art Swap Meet 2006 (pics from last year)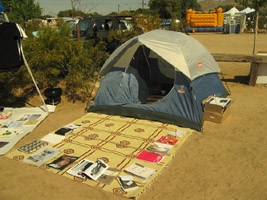 +++++++++++CIANCIOLO VIGODA PICS!+++++++++++++++
Thanks to everyone who came out to the Susan Cianciolo/Abe Vigoda party at the shop! Our camera was broken but we got a few pix of the Abe Vigoda playing (in Jack Hanley Gallery because of the rain) for your viewing pleasure...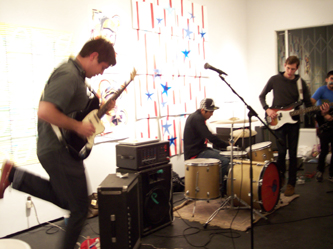 April 17, 2007
++++++++++++++PARTY FRIDAY!+++++++++++++++++++
Abe Vigoda is playing the closing party for Susan's window installation this Friday, April 20th, 8pm, free!


++++++++++SUSAN CIANCIOLO WINDOW!++++++++++++++
Come by the shop and check out our window installation by Susan Cianciolo!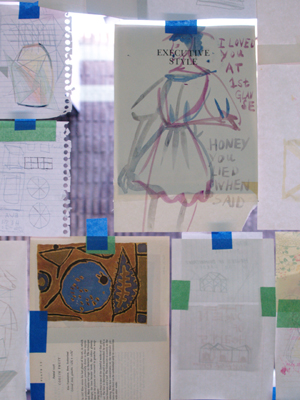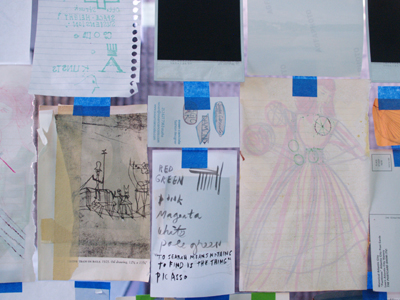 ++++++++++++IAN & CALVIN NIGHT PIX!++++++++++++++
Thanks to everyone who came out to our event at the Mountain!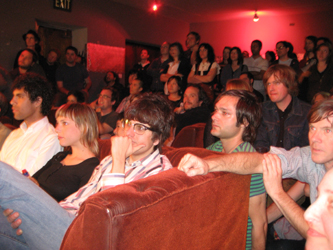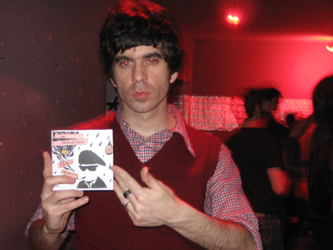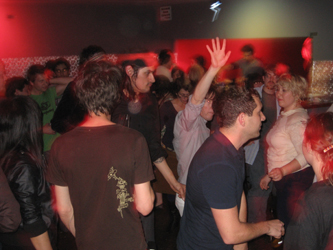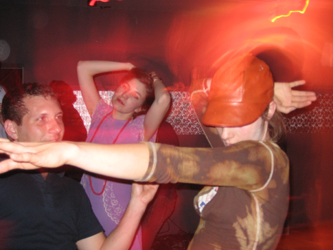 ++++++++IAN SVENONIUS & CALVIN JOHNSON+++++++++++


Ooga Booga is presenting a fun & spesh night at The Mountain:
Ian Svenonius (Weird War/TheMake-Up/N.O.U./etc.) is doing a book reading/presentation for the Psychic Soviet at the Mountain Bar on March 13th, followed by DJ sets by DJ Name Names (Ian Svenonius) & Calvin Johnson (K Records/Beat Happening/and of Ooga Booga mixtape fame) till late!
This night will also be the debut of Ooga Booga's first DVD release, "The Seduction of Paolo Hewitt" (short animations by Svenonius & Dore, which we screened last year in our film series!)
9:30pm, sharp! At The Mountain 973 Gin Ling Way, in the same block as our shop!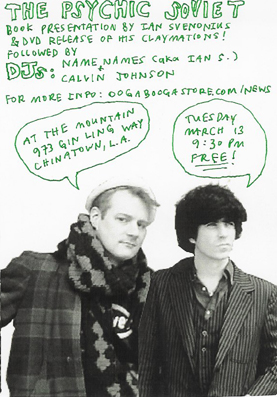 About the dudes:
Ian Svenonius is not only a lyricist and performer of unparalleled depth and intensity (in bands such as the Nation of Ulysses, Cupid Car Club, Make-Up, and Weird War), but also a secret custodian of rock lore and a theorizer of cultural connections that the rest of us, blind in comparison, tend to miss. For supporting evidence, see his recently released book "The Psychic Soviet." He lives, like many of America's national treasures, in Washington DC.
Calvin Johnson, an influential figure in underground music for nearly 2 1/2 decades, is the founder of K Records and has been in many legendary bands such as The Go Team (not related to the current "Go! Team"), Beat Happening, and Dub Narcotic Sound System. He resides in Olympia, Washington, and is the man behind the super-popular mixtapes sold at Ooga Booga.
-->more on Calvin's mixtapes (click) --->more on Ian's book (click)
December 14, 2006
++++++++++++++WEB SHOP IS UP!++++++++++++++++
We've finally put a small portion of our stock on the web! Click here to check it out....
+++++++++++++++CATCHING UP!++++++++++++++++++
We are in the midst of catching up on lots of shop biz...in the meanwhile, here are some mini-reports on some fun times we had over the last two months...a little blast from the past!
++++++++++++WE LOVE MILWAUKEE!+++++++++++++++
In October, Ooga Booga participated in the first-ever Milwaukee International Art Fair, held at the Polish Falcon beer hall. It was the first art fair we had ever been to, and we had a great time! Lots of people showed up from all over the country, all over the world! Everyone was welcome, and we met lots of cool locals there. Here are some pix....and for more info on the fair please visit their official site by clicking here...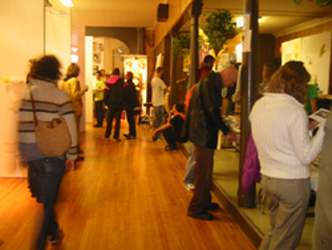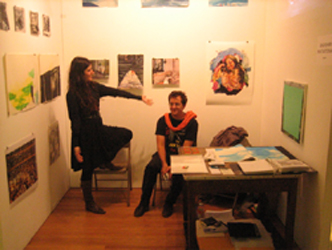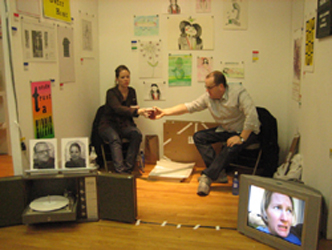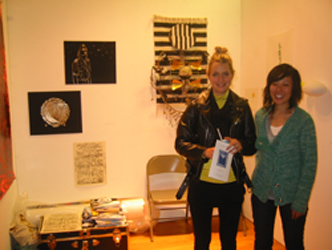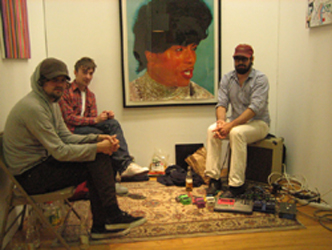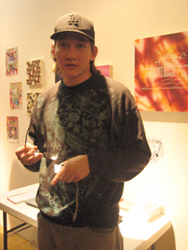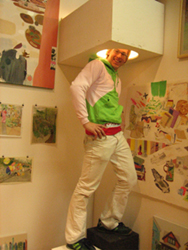 ++++++++++++OCTOBER PARTY AT O.B.!++++++++++++++
Then a week after Milwaukee, we had the pleasure of having one of our favorite bands, No Age, play in our courtyard at Ooga Booga! Jennifer Clavin & Nate Harrington DJ'ed for the night, while Patterson Beckwith operated his portable Polaroid Portrait Studio on the balcony!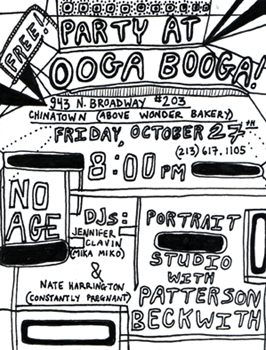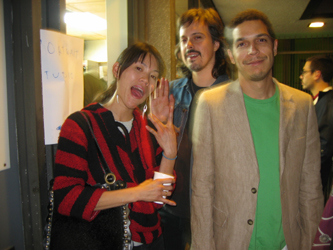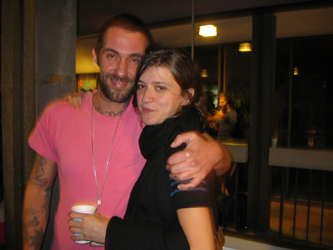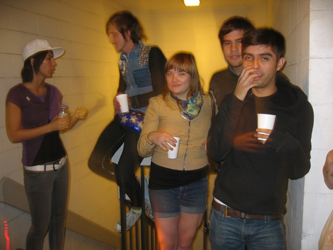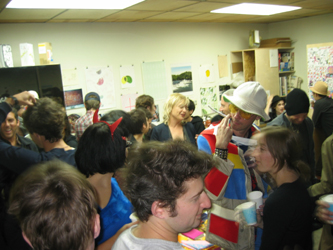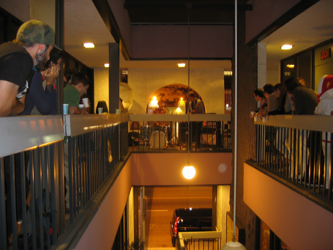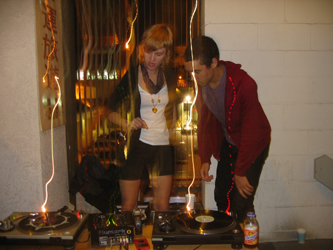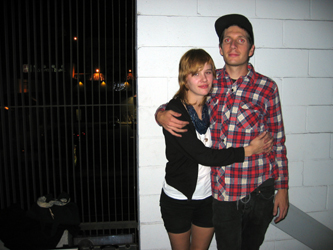 ++++++++++++++NY ART BOOK FAIR!++++++++++++++++
Then in November, we visited the first-annual NY Art Book Fair, organized by the legendary Printed Matter...so many firsts! Also a great time....participants included Ooga Booga friends such as LTTR, Nieves, Pork Salad Press, Dexter Sinister, & many many more!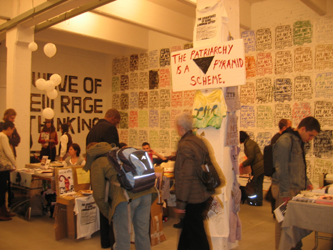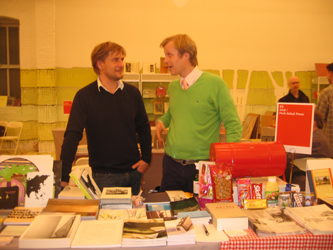 +++++++++++WINTER CLOTHES EXCHANGE!++++++++++++
Once again, we are having a winter clothes exchange to help the homeless stay warm this holiday! Please bring in bags of unwanted clothing in clean, good condition, which we will donate to the homeless shelter downtown...in exchange you get a 15% discount off clothing purchases at our shop! Sorry, already discounted items are excluded from additional markdowns. Hope to see you soon!
October 26, 2006
+++++++++++++++NO AGE FRIDAY!+++++++++++++++++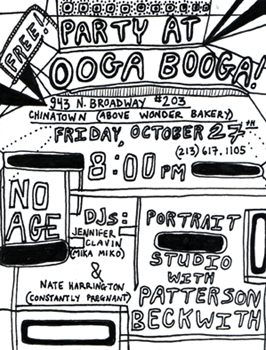 Quite possibly our last courtyard party of the year! No Age plays at Ooga Booga Friday evening, October 27, with DJs Jennifer Clavin (Mika Miko) & Nate Harrington (Constantly Preggers), also polaroid portrait studio by artist Patterson Beckwith...party starts at 8pm, free!
++++++++++++KIOSK AT OOGA BOOGA!+++++++++++++++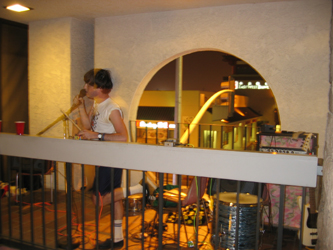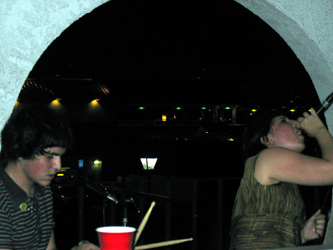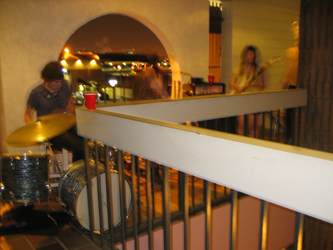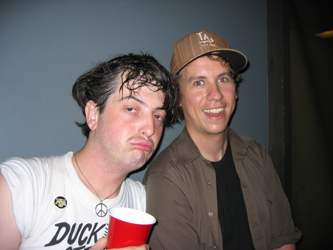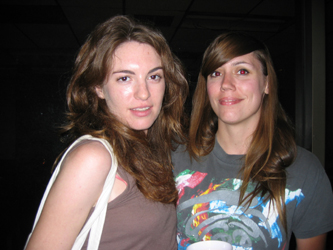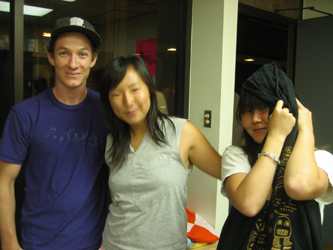 Kiosk + Always from Australia were both amazing!!! Come to the next show— NO AGE on friday october 27th!
july 19, 2006
++++++++++PARTY THURSDAY! WE ARE 2!+++++++++++++
okay so it's happening again this thursday, party at the shop! it sort of happens to be our 2-year anniversary, and kiosk & always, both on tour from sydney australia, will be playing a free show at ooga booga tomorrow thursday july 20th! party will be around 8pm-11pm...hope to see you there!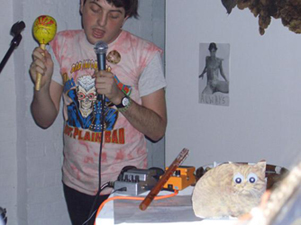 ++++++++P.S.> WE SLID OUR STORE NEXT DOOR!+++++++
by the way, we moved over to a bigger and better room just two doors down the hall from the original space, same building, same address, same chinatown!


mega thanks to all the rad people who helped make it happen! dat's right: stewie & tom, sara c., joey karam, carol lam, nick, martine syms, henry, michael wells, lalo, dave young, dain blodorn, mary ann, keefe, una, brendan, dash, rachel allen, peres crew, etc....group effort!!!
++++++++++ANNIVERSARY HOODIE SPECIAL!+++++++++++
to celebrate turning two, our hoodies will be on sale at 25% off for a limited time! four colorways available, each with different drawings: white w/ green ink, mint w/ white ink, black w/ gold ink, white w/ purple ink!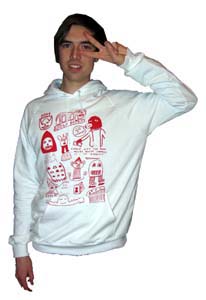 p.s.—regular clothes are on sale too............
++++++++++++++CLOTHING ON SALE++++++++++++++
most of our spring/summer 06 clothes are on sale now! come for up to 40% off & further reductions....
+++++++++RECAP: THRONES AT OOGA BOOGA!+++++++++
thanks to everyone who came out for the thrones & fortress of amplitude/andy coronado's bday at ooga booga last month! it also happened to be the unveiling of our new space, in the same building! same address— just bigger & better, and a couple doors down the hall....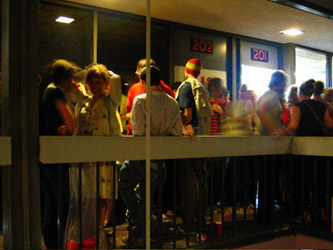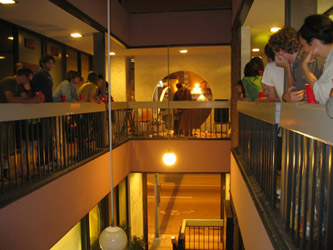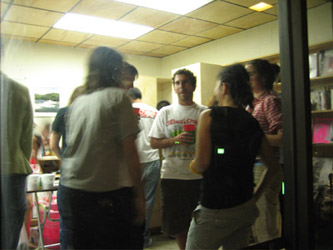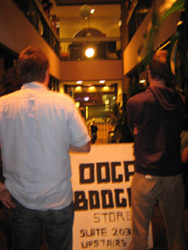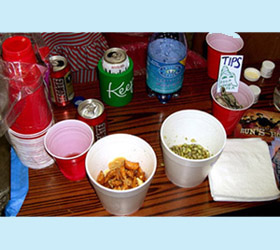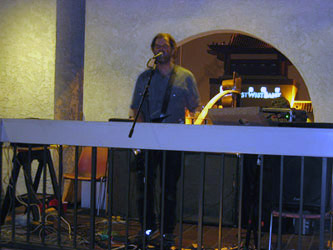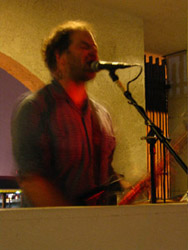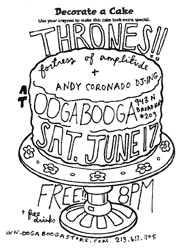 thanks to ann, adam, justin, etc. for the pix!
++++++++++RECOMMENDED CHOCAST++++++++++
Sorry for the lack of update for the last few months! We are working on it and will be updating the site more for the summertime! In the meantime....feel free to check out Chotime Radio by Ooga homie "B.C."-- for your liSStening pleasure! (Click Click..)
june 15, 2006
++++++++++PARTY SATURDAY!++++++++++++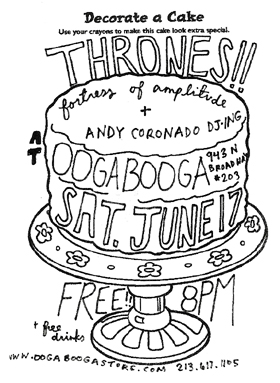 yes, it's official...party this saturday june 17th, 8pm at ooga booga! free live bands on the balcony: the thrones, & fortress of amplitude! free drinks & dj andy coronado on tunes duty (& it's his bday that night)! everyone welcome, hope to see you there!
+++++++++++++++++++++++++++++++++
may 26, 2006
last week was the record release party for holy shit at ooga booga, thanks to everyone who came out for it!
the next party will be mid-june, featuring live music by the thrones, fortress of amplitude & dj andy coronado! stay tuned for more details....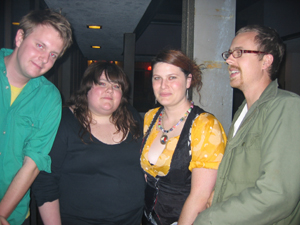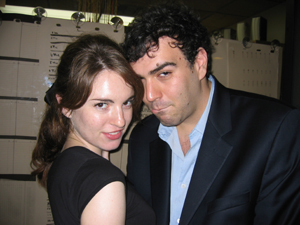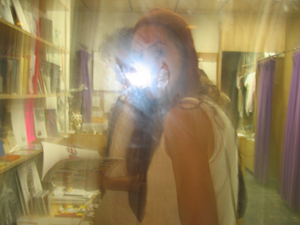 news flash------5/16/05.

PARTY THIS THURSDAY MAY 18
it's a record release party for holy shit—
their album is coming out on uuar (united bamboo)—they will be performing & there will be drinks & dj's!
free as always, at ooga booga.
+++++++++++++HDTS5+++++++++++++++
our art swap meet at the high desert test sites in joshua tree may 6&7 was lots of fun! click here for more pics & info on the event....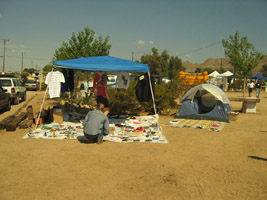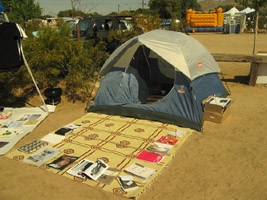 news flash------12/27/05.
+++++++++THURSDAY'S FILM PROGRAM, DEC 29+++++++++
LTTR presents this film night featuring: Ulrike Muller, K8 Hardy & Wynne Greenwood (Tracy + the Plastics), Klara Liden, Carola Dertnig, Pauline Boudry, and more!
++++++++OOGA BOOGA NIGHTS! THIS MONTH!+++++++++++
This December we're doing a free film series in conjunction with the Wishing Well Cine-Club at the Mountain in Chinatown! Weekly film screenings by Ooga Booga-related artists, with DJ dance party afterwards each night! Film presentations by Mason Cooley, LTTR, Oliver Payne & Nick Relph, Paperrad, Ian Svenonius, and more!!!!
Click here for the full details......
+++++++MINI-SHOP NYC AT OPENING CEREMONY!+++++++++
Here are pics from the opening party! Thanks to everyone at Opening Ceremony who helped put this together for us. The Mini-Shop is a temporary "guest shop" in Opening Ceremony and will be open during O.C. hours (11-8pm everyday) from now until January!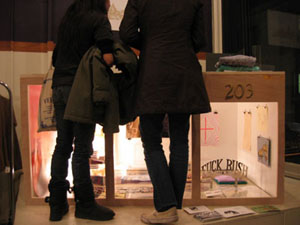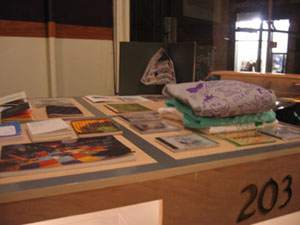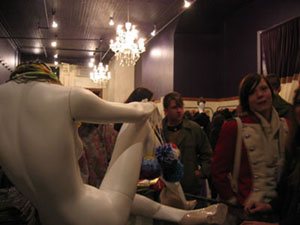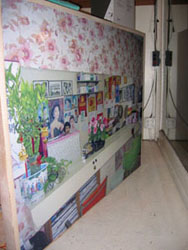 ++++++++OUR MINI-SHOP NYC OPENED SUNDAY!++++++++++
We're super excited to do a collabo with our fave NYC store Opening Ceremony! So we're having a mini version of Ooga Booga inside their storefront, starting this Sunday, and thru the holidays--11am-8pm everyday-- at 35 Howard Street (between Broadway & Lafayette) New York! It's Chinatown to Chinatown only for us!!!


Please come to the reception this Sunday November 20th, from 6pm-8pm at Opening Ceremony: 35 Howard St., NY 10013. DJ & drinks! Afterparty at Sway: 305 Spring St. (between Greenwich & Hudson) with open bar from 10pm-11pm. C-ya there!!!
+++++++++NEW WINDOW BY MARIE JAGER!+++++++++++
New window is up, by artist Marie Jager! Actually this is a mock-up, come to the shop to see da real thing o-k!


+++++++++NEW OOGA BOOGA HOODIES NOW!+++++++++++
Yeah! After the last restock sold out we just finished a new run of them, in four new colorways! Mint/white, black/gold, white/green, & white/purple.....pics to come, maybe!
+++++++++++EXTREME ANIMALS AUGUST!++++++++++
The Extreme Animals show in August was amazing, rad. Thanks to them for playing and to everyone who came out!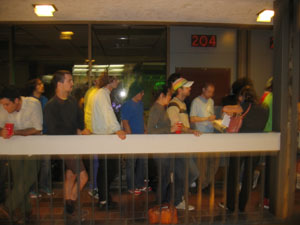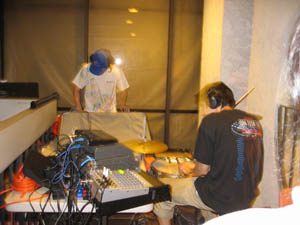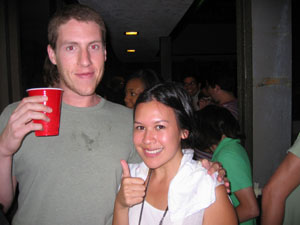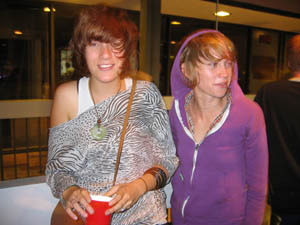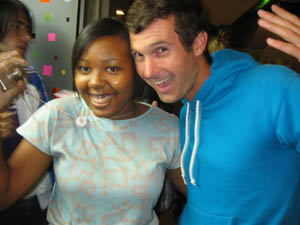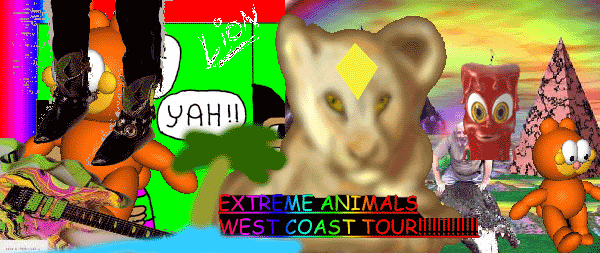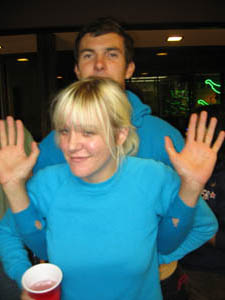 danke dudes!!!!!
August 21, 2005.
+++++++++++EXTREME ANIMALS TUESDAY!++++++++++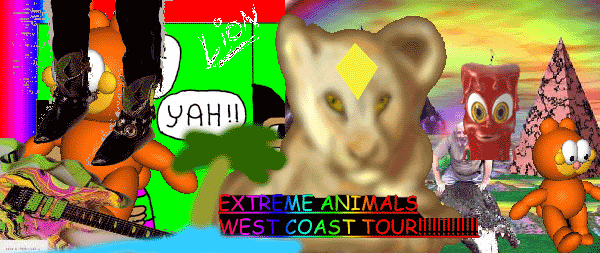 Free show and party this Tuesday evening (August 21), 8pm at the shop! Extreme Animals (Jacob from Paperrad's band, on tour from Pittsburgh!) are playing, and there will be tunes, drinks and snacks to follow! Please visit paperrad.org for more info on Extreme Animals!
Also stop by to say goodbye to our awesome intern Martine who is moving eastward next week! (Thanks Martine for all your help! And thanks too to Milano-delichay who won't be there but is leaving for NYC this week too! Boo hoo!)
+++++++++OOGA BOOGA TSHIRTS ARE BACK!+++++++++++
Yeah! They are finally back in stock! Sweatshirts too! And baby gear, in case you are preggers or if you have a friend who is!
++++++++++1 YEAR ANNIVERSARY PARTY+++++++++++++
Yes, now we are one year old...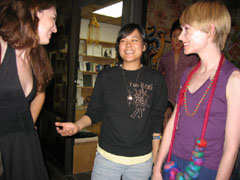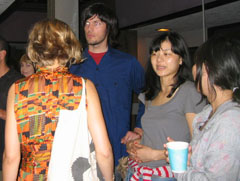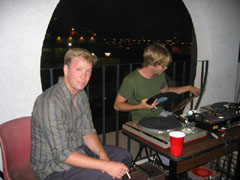 Thanks to everyone who came to the party, and especially to our DJ's Jessica and Colin! Big ups to you guys! Thanks tip cup!!!
++++++++++++++ONE WITH THE SUN+++++++++++++++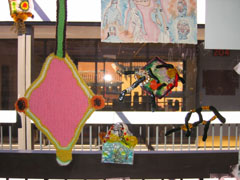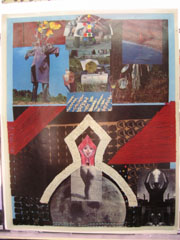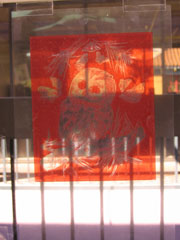 So the 1-year anniversary party was also the unveiling/opening party for the new group-window installation "One With the Sun" curated by Rob Halverson, featuring artwork by:Mat Brinkman, Emily Litjens, Andrew Jeffrey Wright, Hisham Bharoocha, Muffy Brandt, Rama Hoffpauir, Kyle Field, Isaac Lin, Diane Barcelowsky, Sto, Jes Seamans, Chadwick Rantanen, Luke Thomas, Kurt Skaife, Kirk Snyder, Rob Halverson, Michael Gaughan, Rob Nelson, and more!

July 19, 2005.
++++++++++++++++WE'RE ONE YEAR!+++++++++++++++


Please come by for our one-year anniversary party this Saturday, July 23rd, 7pm-11pm! New multi-artist window unveiled! DJ's Jessica Espeleta and Colin Blodorn! Music, drinks and snacks! Free, duh!
+++++++++++++++++++++++++++++++++++++++++
June 30, 2005.
+++++++++++++++WINDOW IS UP++++++++++++++++


Brendan Fowler aka BARR just finished his rad window! And no, the window isn't broken...but his foot is-- he made the whole thing while standing on his un-broken foot, so Brendan, we applaud you for that. Great job on the window.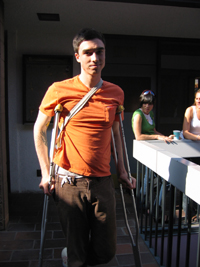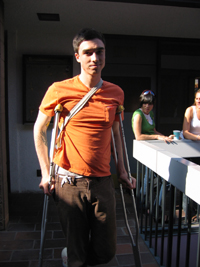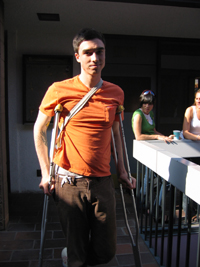 (P.S.-- Next window will be up July 23 for the Ooga Booga one-year anniversary party, and it will be a compilation-window, f.y.i.)
+++++++++++++++PARTY WAS GREAT!+++++++++++++++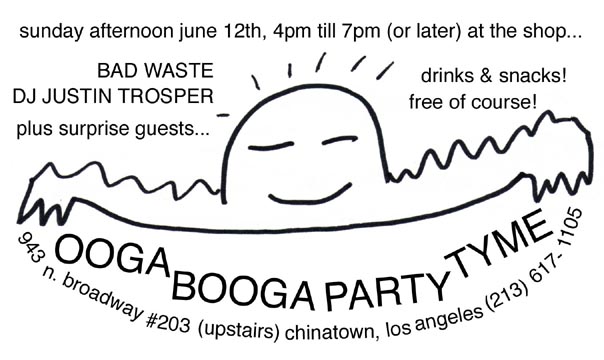 Last Sunday's party was super fun! Bad Waste played the raddest outdoor set and Trospy jammed a great array of tunez! Thanks to everyone who came by, hope you enjoyed your relph-tinis!!!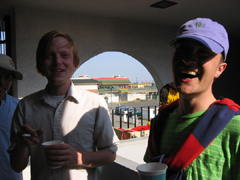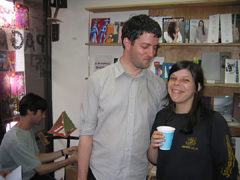 June 10, 2005
+++++++++++++AFTERNOON SURPRISE++++++++++++++
Come to the shop this Sunday afternoon June 12th from 4:00pm to 7:00pm (or later), we're having a "summerjam," I mean party, featuring Bad Waste of DoggPony Records (fresh from their west coast tour), DJ Justin Trosper, and surprise guests (shhh)....! P.S. Octis was supposed to play too but had to cancel due to other work conflicts, boo hoo! Snacks and refreshments will be in effect!
Free, as always, so please feel free...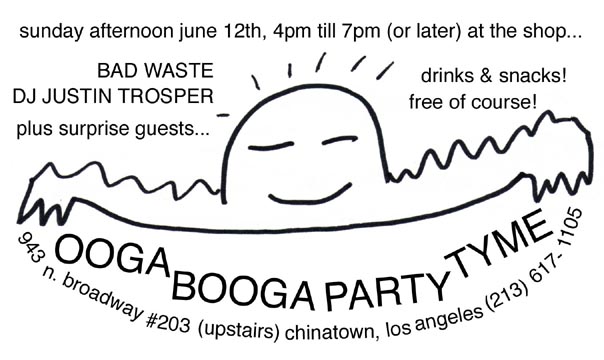 <click here to go to the main page>
<click here for even older news!>