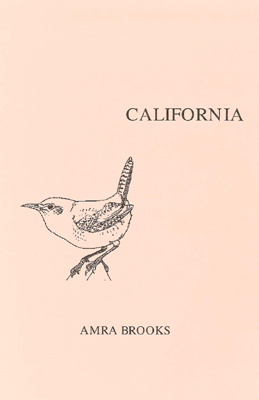 Amra Brooks
California
Limited-run 2005 printing of the novella by Amra Brooks, which is slated to be officially released in 2008 by Suspect Thoughts Press Teenage Teardrops in an edition of 500. This is a creative non-fiction book about growing up in California from the mid-1970's to early 1990's with post-hippie punk rock divorced parents who battle with depression and addiction. The story exists at a time when the fields of orange trees were still there, and continuing until they disappeared, the ideals vanishing.

"I am resistant to a linear coming of age story because I want memory to serve as the organizing principle. In California, I make an assertion that the way memory is typically used to tell stories is insufficient. In memory, we are able to move forwards and backward at the same amount of time, and events are not weighted by their place in time, but by their emotional and psychological impact, which inevitably distorts or clarifies them. This organizing principal
quickly diffuses any attachment to the 'real' or the 'facts.' For these reasons, I choose to call this work fiction." —Amra Brooks, 2005

Paperback, 81 pages, edition of 100, self-published, 2005.
Paperback, 81 pages, edition of 500, published by Teardrops, 2008.
SOLD OUT!
*you are on our old webshop, which is no longer active! our new webshop is here :)