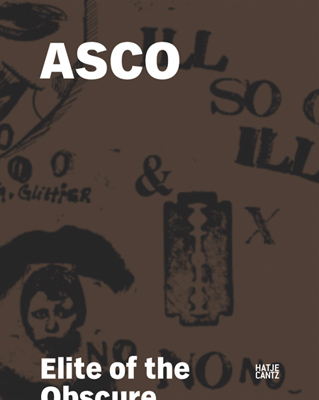 ASCO: Elite of the Obscure
Text by C. Ondine Chavoya, Rita Gonzalez, David E. James, Amelia Jones, Chon A. Noriega, Jesse Lerner, Deborah Cullen, Maris Bustamante, Colin Gunckel, David Román, Raúl Homero Villa, Josh Kun, Tere Romo, Mario Ontiveros, Ramón García, Michelle Habell-Pallán.
ASCO: Elite of the Obscure is the first comprehensive monograph to survey the wide-ranging activities of the Chicano performance and conceptual art group ASCO. Active between 1972 and 1987, ASCO began as a tight-knit core of artists from east Los Angeles: Harry Gamboa Jr., Gronk, Willie Herrón and Patssi Valdez. Taking their name from the Spanish idiomatic word for disgust and nausea, ASCO launched their response to turbulent socio-political conditions in Los Angeles and the larger international context through performance, public art and multimedia. Geographically and culturally segregated from the then-nascent Los Angeles contemporary art scene, and aesthetically at odds with the emerging Chicano art movement, ASCO united to explore and exploit what they saw as the unlimited media of the conceptual.ASCO: Elite of the Obscure includes reproductions of previously unpublished works and reprinted historical documents, along with new critical essays.
SOLD OUT!