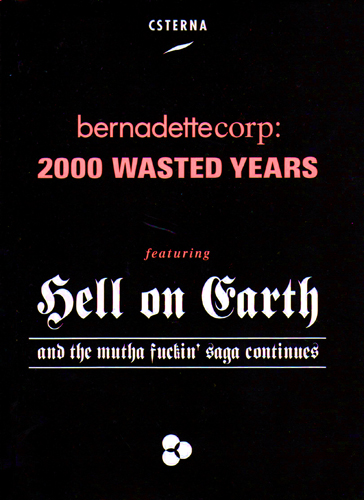 Bernadette Corporation
2000 Wasted Years look book
2000 Wasted Years is the first retrospective by Bernadette Corporation. The exhibition recasts the works authored by the group since their inception in the early '90s. This is exhibition is showing through December 2012 at Artist's Space Gallery in New York.
The origins of Bernadette Corporation lie in the organization of parties in downtown New York, their mock incorporation and ambiguous branding strategies suggesting a slipperiness of intent that developed between 1995 and 1997 into a women's fashion line. In keeping with the original premise that a corporation was "the perfect way to alienate alternative politically-correct types," the image grammar of BC's clothing and styling focused on the mass-produced sportswear styles of ethnic minorities ghettoized in the urban territories. At a time when the fashion industry was confronted with a DIY rebelliousness, BC took its cues from the political-literary wing of the historical avant-garde. They engaged in quotation, concepts, fictions, appropriation, provocation, hoaxes, and anti-artistic postures of crass commercialism.

This "lookbook," documenting Bernadette Corporation's Fall/Winter 1997, Hell On Earth collection has been published by Artists Space.

SOLD OUT!
*you're viewing our old webshop which is not up to date. Please visit our new webshop here, thanks!