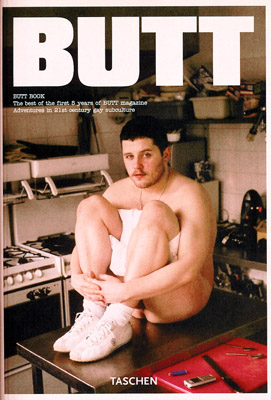 Butt Book: The best of the first 5 years of BUTT magazine
Celebrating BUTT magazine`s fifth anniversary, this book is a selection of the most fantastic and the most ridiculous interviews and photos that have appeared in BUTT so far. This anthology also finally makes a lot of material from the now rare, earlier issues of BUTT available again. For your (in)convenience, the timeline in the book runs backwards, from the here and now all the way back to the summer of 2001, when the first issue of BUTT landed with a bang.
Like the magazine itself, this book offers an often amazingly realistic view on today`s homosexual man, including conversations with Michael Stipe, Gus van Sant, Rufus Wainwright, Marc Jacobs, as well as contributions from Wolfgang Tillmans, Terry Richardson, Hedi Slimane, Asianpunkboy, and Helmut Lang, just to name a few. "BUTT has single-handedly pioneered the notion of a smart, literate gay magazine yet also manages to be very dirty," notes filmmaker Bruce LaBruce in his foreword. "BUTT matters. BUTT fills a hole."
Softcover, 560 pages, 9.1" x 6.4", color on pink stock, 2006.
SOLD OUT!