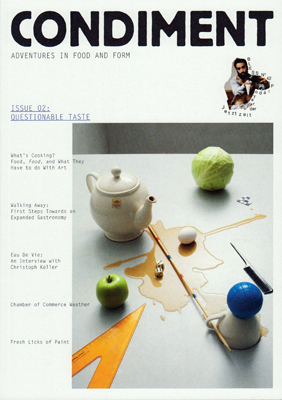 Condiment Magazine
Issue Two
Spring/Summer 2011! This issue of Condiment has reminded us of the simple truth that we are living with food, not living for food. In this context, the aim shifts from accomplishment to a need for further exploration. Ideas and approaches to food have never seemed so evolved and exaggerated. Yet, as the focus on the meal continues to increase, we risk forgetting about all the hours of living that exist in between. Rather than only being an object of desire, food needs also to be a subject of discussion—approached not as a statement about politics, provenance or proficiency, but as an open-ended question mark. In some form or another, we hope that each page of this issue raises questions —not just about what food is, but about what it can be. After all, each meal is both an outcome and a new beginning. This issue has been produced in collaboration with BLESS. Images from their collection BLESS N° 42 Plädoyer der Jetztzeit appear on each page of the publication.
Softcover, 16 1/2 x 23 cm., 91 pages, color, 2011.
Condiment Magazine
Issue One
Condiment: Adventures in Food and Form is a publication and project-base exploring the relationship between food and creativity and food and community.

Issue 01 features work and contributions from:
Yumiko Utsu, Martino Gamper, Ready For The House, Darren Sylvester, Anders Jander, Per Englund, Ellen Birrell, E.C. Large, ffiXXed, Taiyo Onorato and Nico Krebs, Amanda Maxwell, Shauna T., Melanie Bonajo, Christopher LG Hill and Postalco.
SOLD OUT!