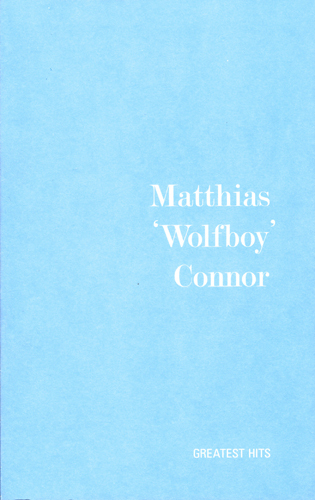 Matthias "Wolfboy" Connor
Greatest Hits
Pulished by De Stijl Records, 2013. About Matthias Connor, which will give you some idea of what the book contains:
Matt
Matthias Connor
Wolfboy Matt
Matt Wolfboy
Matthias Wolfboy Connor
Matthias 'Wolfboy' Connor
Matthias Connor aka Wolfboy
Matthias Connor, Wolfboy
Wolf
Wülfboy
Wulfboy
Wulfy
- is the son of Liam Gallagher and Brigitte Bardot
- promises to write a biography of Samuel Smith's. In the meantime there's the International John Snow Society
- has worked at Camden Underworld
- has performed with Gang Gang Dance
- was for some years a 'truly terrible employee' of a book shop beside London Bridge
- sorted people's underwear by colour in a laundry for a couple of months
- dresses in inspirational colourways
- was a postman
- worked in Sainsbury's
- lived in Palmers Green when he first moved to London to study Media Studies
- was haunted by Dermot O'Leary's face in hospital
- has read aloud his short stories in art galleries in London, New York and Los Angeles, sometimes in tears
- collected glasses at the Leigh Bowery-sanctioned Bar Industria
- was a salesman at 90s punk-revival outfitters Acupuncture, in a cubby-hole squeezed between two Soho strip clubs
- was a salesman at sex shop Dreamy Lips
- folded t-shirts in a trendy men's clothing shop
- sold trainers in a limited-edition trainer shop
- got fired from a trainer shop for selling the limited-edition stock on eBay
- writes hilarious descriptions on eBay, the one for a Japanese fashion dressing gown being particularly memorable
- lasted a day at Diesel, his worst job
- djs, soul music especially
- sold all his clothes and records a couple of years ago, with no regrets
- goes skating in a beige Uniqlo sweater
- had to Google it
- is a nanny
- has interviewed Roky Erickson over the telephone. Roky put the phone down on him or it was a bad line
- interviewed riot grrrl band Skinned Teen for porn mag Club International Magazine
- until recently was kitchen staff in a restaurant
- considers himself very lucky
- used to live off a can of Coke, a roll up and a custard donut
- has been known to spend five hours cooking Macaroni Cheese
- has put the hours in to earning the dole
- has been a hunt saboteur by accident
- has worked in a women's shelter in Los Angeles
- publishes short stories on his own Poppy Books imprint
- sells them at the Anarchist Bookfair, on a stall shared with a member of Crass
- wrote the fanzine This Is Buxton Not LA
- feels like a Londoner
- will cycle anywhere
- spent last Wednesday walking around the chicken and chip shops of Leytonstone
- learnt everything from skateboard magazines and records
- is in training to be a nurse.