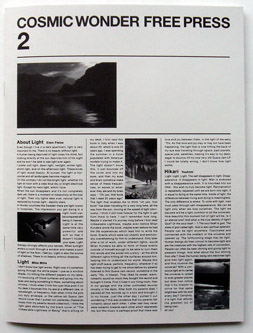 Cosmic Wonder
Free Press 2
The second in a series of publications by Japanese fashion designer Cosmic Wonder (Yukinori Maeda). This is an open-ended art book project that, like a diary, expresses the present state of Cosmic Wonder in printed form. A fold-out poster accompanies each book. Comprised of letters from friends ''about light''—visual collaborations with Elein Fleiss (editor-in-chief of The Purple Journal), Mike Mills (graphic designer/artist/film director) and Yoshimio (OOIOO/Boredoms).
Includes two audio CDs by Yoshimio with Gamelan and Light Lodge by Yukinori Maeda featuring improvised tracks of the live performance held at Center for Cosmic Wondre in Tokyo.
Softcover, 36 pgs., 19.5 x 25.5 cm, b/w gold/silver offset printing with 2 CD's, first edition, 2008.
SOLD OUT!