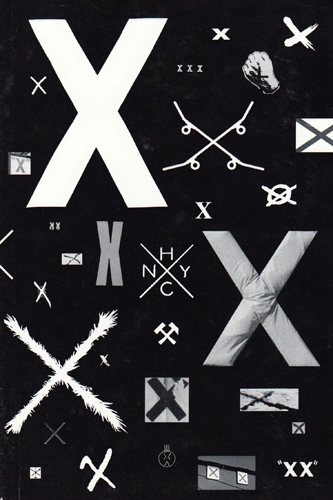 Glen Cummings and Adam Michaels
X
From the introduction: "This publication is an initial attempt to examine the trajectory of the X symbol in underground music culture. While the X is broadly associated with the Punk scene – in particular, straight edge hardcore – the symbol contains a wide range of often-contradictory meanings. This document presents our ongoing research; we welcome comments, corrections, and criticisms."

X Book was edited and designed by Glen Cummings and Adam Michaels. Michaels is also one of the designers behind Project Projects and those who know their underground music from New York will remember Glen Cummings as one of the guitarists from the enjoyable New York Hardcore band Ludichri$t.

This book is a densely designed and endlessly rich trove of graphics, grabbed from album covers, band flyers, tattoo designs, websites, concert photos, and numerous other sources showing all of the places the iconic 'X' appears. Included in the lot one can find: flags, military badges, spray-painted markings from the damage Hurricane Katrina left behind, the Manson family, street signs, porn theater facades, sports, a wealth of punk rock materials and, of course, the straight edge movement. Lots of great juxtapositions and discoveries from what was clearly an enthusiastic research project.
Softcover, 5x7.5 in., 114 pages, b&w, 2009.

SOLD OUT! Please visit our new webshop here!