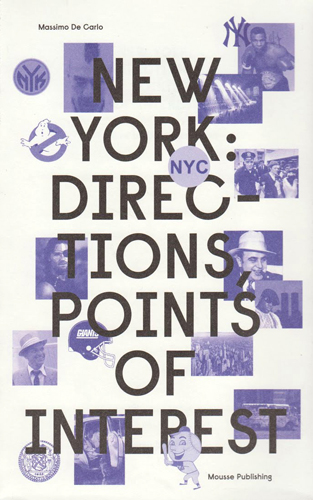 Massimo De Carlo
New York: Directions, Points of Interest
Trying to describe the contemporary art scene in New York is complicated, like trying to rigidly define a city that over the course of its history has embraced positions and interests that are often diametrically opposed. The exhibition "New York: Directions, Points of Interest" curated by Elena Tavecchia for Massimo De Carlo Gallery is a path that winds through a selection of eight of the most interesting artists on the NY scene, who have decided to pursue their research in this urban context.

The works in the show reflect an imaginary itinerary through the concrete grid and layers of a city that has been, and continues to be, one of the cultural reference points of the global stage. The catalogue published for the show contains texts by Elena Tavecchia and Alex Kitnick.
Pages: 80
Language: English, Italian
Dimensions (H x W): 20,5 x 13 cm