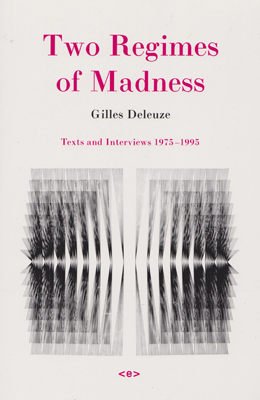 Gilles Deleuze
Two Regimes of Madness
People tend to confuse winning freedom with conversion to capitalism. It is doubtful that the joys of capitalism are enough to free peoples.... The American "revolution" failed long ago, long before the Soviet one. Revolutionary situations and attempts are born of capitalism itself and will not soon disappear, alas. Philosophy remains tied to a revolutionary becoming that is not to be confused with the history of revolutions.
—from Two Regimes of Madness
Covering the last twenty years of Gilles Deleuze's life (1975-1995), the texts and interviews gathered in this volume complete those collected in Desert Islands and Other Texts (1953-1974) . This period saw the publication of his major works: A Thousand Plateaus (1980), Cinema I: Image-Movement (1983), Cinema II: Image-Time (1985), all leading through language, concept and art to What is Philosophy?(1991). Two Regimes of Madness also documents Deleuze's increasing involvement with politics (with Toni Negri, for example, the Italian philosopher and professor accused of associating with the Red Brigades). Both volumes were conceived by the author himself and will be his last. Michel Foucault famously wrote: "One day, perhaps, this century will be Deleuzian." This book provides a prodigious entry into the work of the most important philosopher of our time. Unlike Foucault, Deleuze never stopped digging further into the same furrow. Concepts for him came from life. He was a vitalist and remained one to the last.
This edition restores the full text of the original French edition.
Softcover, 6 in. x 9 in., 424 pages, 2007.