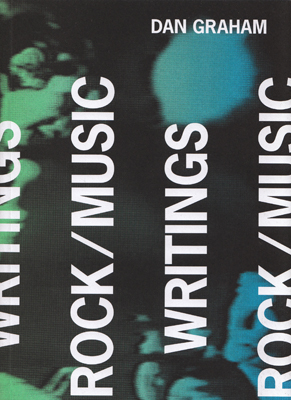 Dan Graham
Rock / Music Writings
The first collection in English of artist Dan Graham's influential body of writing on Rock and Roll music. Stretching from the late 60s to the late 80s, Rock/Music Writings contains the following 13 essays, most of which are currently out-of-print or seen here for the first time in a widely distributed form:
Holes and Lights: A Rock Concert Special; All You Need Is Love; Live Kinks
Late Kinks; Country Trip; The End of Liberalism; Punk as Propaganda; Rock My Religion; New Wave Rock and the Feminine; Musical Performance And Stage–Set Utilizing Two–Way Mirror And Time–Delay; McLaren's Children; Untitled; Artist as Producer.
Softcover, 224 pages, B&W with 29 images, edition of 3000, 2009.