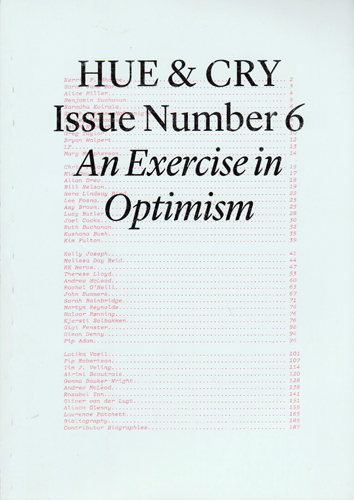 Hue and Cry
Issue 6
An annually published art and literature magazine from New Zealand.
This issue: edited by Chloe Lane, Andrea Bell, Amy Brown
Designed by: The International Office
Published 25 May 2012
192pp
Includes new fiction by Gigi Fenster, author of The Intentions Book; and Gemma Bowker-Wright, winner of the 2011 Katherine Mansfield Award; new writing by NZ Society of Authors, 2011 Best First Book winner Pip Adam; as well as new work by Best NZ Poems 2011 awardees Hera Lindsay Bird and Rachel O'Neill. Featured artists include Simon Denny, Andrew McLeod and Kushana Bush. With new art writing from Ruth Buchanan and Laura Preston.