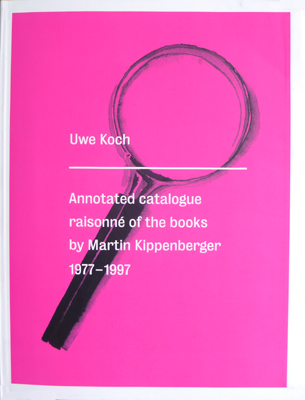 Uwe Koch
Annotated Catalogue Raisonné of the Books by Martin Kippenberger 1977-1997
Artwork by Alex Katz, Martin Kippenberger. Edited by Uwe Koch, Roberto Ohrt. Text by Diedrich Diederichsen.
Roberta Smith called him the "madcap bad boy of contemporary German art" and also "one of the three or four best German artists of the postwar period." Martin Kippenberger disrupted the status quo throughout his brief, excessive life, not just by making art of every variety and medium but also by conducting an extended performance in the vicinity of art that involved running galleries, organizing exhibitions, collecting the work of his contemporaries and overseeing assistants. He published books and catalogues, played in a rock-and-roll band and cut records, ran a performance-art space during his early years in Berlin, became part owner of a restaurant in Los Angeles during six months he spent there preparing for an exhibition, and collaborated extensively with other artists. This particular volume considers his output of artist's books, as well as his exhibition catalogues and all the publications whose content he either created or edited. More than just documentation, this publication makes accessible for a wider public the multiple aspects of Kippenberger's books, with all the complexity and consequence of his oeuvre intact.