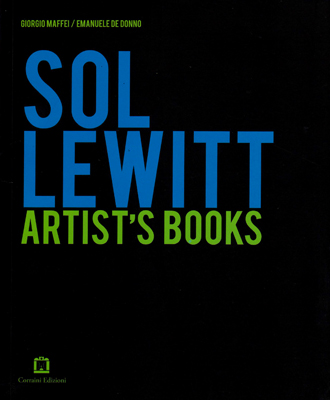 Sol Lewitt
Artist's Books
"Books are the best medium for many artists working today," Sol LeWitt (1928–2007) once declared. A pioneer of artist's books, and co-founder of New York's Printed Matter bookstore in 1976, LeWitt is closely identified with the book as an art form. Starting with 1967's Serial Project No. 1 (from Aspen magazine), and closing with Chicago (Morning Star Publications, 2002), this book reproduces covers and spreads from Sol LeWitt's massive oeuvre of artist's books, almost all of which are now rarities. As artist's book historian Clive Phillpot notes, "the principle attribute of LeWitt's books is one common to all books: a dependence upon sequence, whether of families of marks or objects, or of single or permuted series which have clear beginnings and endings." Critical observations from LeWitt himself and a variety of scholars make this volume the most sustained treatment of LeWitt's prolific activity in this area to date. Text by Giorgio Maffei, Emanuele De Donno, Didi Bozzini, Cecilia Metelli, Marilena Bonomo.
Softcover, 6 in. x 7 1/2 in., 141 pages, 2009.
SOLD OUT!
*you are viewing our old webshop, which is out of date. Our new webshop can be found here. Thanks!