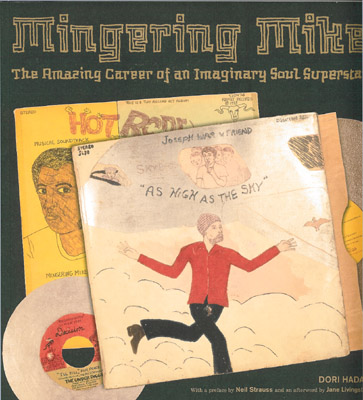 Mingering Mike
The Amazing Career of an Imaginary Soul Superstar
In late 60's Washington D.C., the then-teenage Mike Stevens started painting a meticulously detailed and life-scaled cardboard catalogue of "records" showcasing his own imaginary career as a soul superstar. This collection eventually amassed to nearly 200 "LPs" and "45s" by Mingering Mike, as he usually called himself, on a variety of made-up record labels, soundtracks to imaginary films, and charity albums.
In this book, Dori Hadar tells the story of a man and his myth: the kid who dreamed of being a star and the fantastical "careers" of the artists he created. All of Mingering Mike's best albums and 45s are presented in full color, finally bringing to the star the adoring audience he always imagined he had.
Softcover, 9" x 9.5", 192 pages, 135 color illustrations, 20 b/w illustrations, 2007.
SOLD OUT!