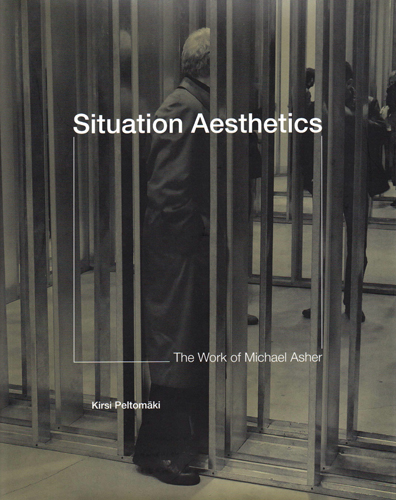 Kirsi Peltomäki
Situation Aesthetics: The Work of Michael Asher
Michael Asher doesn't make typical installations. Instead, he extracts his art from the institutions in which it is shown, culling it from collections, histories, or museums' own walls. Since the late 1960s, Asher has been creating situations that have not only taught us about the conditions and contexts of contemporary art, but have worked to define it.
In Situation Aesthetics, Kirsi Peltomäki examines Asher's practice by analyzing the social situations that the artist constructs in his work for viewers, participants, and institutional representatives (including gallery directors, curators, and other museum staff members). Drawing on art criticism, the reports of viewers and participants in Asher's projects, and the artist's own archives, Peltomäki offers a comprehensive account of Asher's work over the past four decades. Because of the intensely site-specific nature of this work, as well as the artist's refusal to reconstruct past works or mount retrospectives, many of the projects Peltomäki discusses are described here for the first time.
Asher's work has commonly been associated with minimalism, conceptual art, and, most frequently, institutional critique. Peltomäki takes a different perspective, focusing on the work's social dimension. Because Asher's installations typically address the given context—the situation—of their exhibition directly and exclusively, they cease to exist after the exhibitions end, leaving behind few material traces. By emphasizing the social and psychological sites of art rather than the production of autonomous art objects, Peltomäki argues, Asher constructs experientially complex situations that profoundly affect those who encounter them, bringing about both personal and institutional transformation.
SOLD OUT!
*you are viewing our old webshop which is out of date. Please click here to visit our new webshop! Thank you