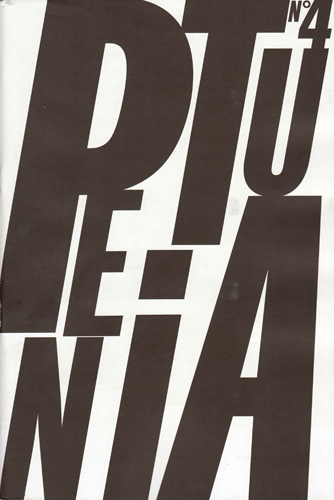 Petunia Magazine
Issue 4
Each issue of Pétunia is organised around subjective emergencies, not as a exhaustive summation of a subject but as an open, autonomous publication presenting multiple facets on a topic. Pétunia does not affiliate with territorial issues of current matters nor trends. Pétunia does not have chapters nor sections, but diverse textual forms, focusing largely on contemporary art : from theoretical texts to diary entries, to pure fiction or comics. All contributions remain in their original language, without translations.
The layout of Pétunia is an important part of each issue; its graphic design is prominent, featuring a different graphic designer for each print. Pétunia is an unclassified object that paradoxically affirms a strong identity in focusing foremost on the work of women critics, curators, artists... To that extent, Pétunia is a feminist publication playing the game of affirmative action as a response to the constant imbalance of the role and place of women in the art world. Each issue reactivating reactivates — with nostalgia and humour — the forms of ideological engagement of women regarding art and critical production, enriched with three four decades of "gender studies", "black studies", and "post - colonial studies".

Issue 4: The Violence Issue
With contributions by/about: Fabienne Audéoud, Alex Bag, Lili Reynaud Dewar; Sonya Dyer, Dorothée Dupuis, Valérie Chartrain, Jean-Charles Massera, Elisabeth Lebovici, Glenn Ligon, Ellen Cantor, Samara Davis, Sarah Ortmeyer, Ellen Harvey, Cassandra Lasch Edlefsen, Bruce Nauman, Luc Jeand'heur, Klara Liden, Alexander Fleming, Valerie Solanas, Caroline Achaintre, Matthew Darbyshire, and Olivia Dunbar. Design : Susanna Shannon / Design Dept
SOLD OUT!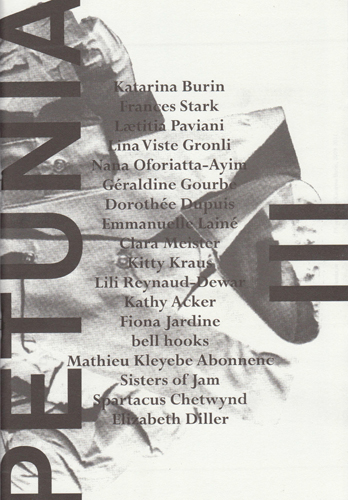 Petunia Magazine
Issue 3
The Space and Architecture Issue
Contributions : Katarina Burin, Frances Stark, Laetitia Paviani, Lina Viste Gronli, Nana Oforiatta Ayim, Géraldine Gourbe, Dorothée Dupuis, Emmanuelle Lainé, Clara Meister, Kitty Kraus, Lili Reynaud Dewar, Kathy Acker, Fiona Jardine, bell hooks, Mathieu Kleyebe Abonnenc, Sisters of Jam, Spartacus Chetwynd, and Elizabeth Diller. Design by Change is Good.
SOLD OUT!
Petunia Magazine
Issue 2
The Identity and Fiction Issue
Contributions : Damien Airault, Pauline Boudry & Renate Lorenz, Spartacus Chetwynd, Clémentine Deliss & Michelle Naismith, Anne Dressen, Carlos Fuentes, Regina José Galindo, Pierre Gicquel, Renske Janssen, Alexandra Midal, Lorraine O'Grady, Laetitia Paviani, Maroussia Rebecq, Émilie Renard, Caroline Sury, Benjamin Thorel, and Giovanna Zapperi. Design by Elamine Maecha.
SOLD OUT!
Petunia Magazine
Issue 1
The Numéro 0 Issue
Contributions : Damien Airault, Marcelle Alix, Mehraneh Atashi, Virginie Barré, Johanna Burton, Luca Cerizza, Elsa Dorlin, Dorothée Dupuis, Céline Duval, Pierre Giquel , Vincent Honoré, Mary Kelly, Alexandra Midal, Michelle Naismith, Mick Peter, Griselda Pollock, Lidwine Prolonge, Émilie Renard, Lili Reynaud Dewar, Bridget Riley, Benjamin Thorel, Giovanna Zapperri, and Emily Wardill. Design by Jan Mast.
SOLD OUT!