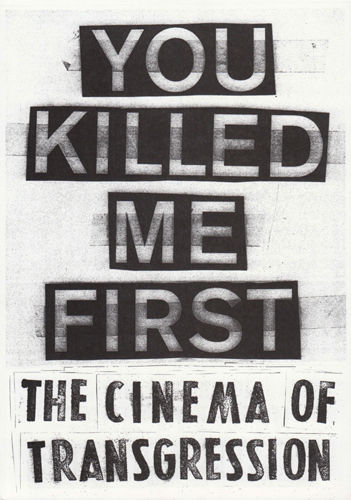 Susanne Pfeffer, ed.
You Killed Me First: The Cinema of Transgression
Emerging from New York's Lower East Side in the city's early 1980s No Wave scene, the "Cinema of Transgression" aimed at outright shock, provocation and confrontation. Young filmmakers such as Richard Kern, Lydia Lunch, Kembra Pfahler, Casandra Stark and Nick Zedd produced nihilistic, nightmarish scenarios of violence, angst and erotic excess that willfully transcended all moral or aesthetic boundaries. Sometimes shot with stolen camera equipment, and flaunting their lo-fi credentials, the low-budget films of the self-proclaimed "Cinema of Transgression" presented analyses of a Lower East Side defined by criminality, brutality, drugs, AIDS, sex and excess. You Killed Me First is published on the occasion of the first exhibition on the Cinema of Transgression.
SOLD OUT!