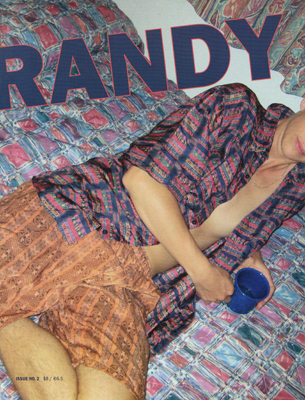 Randy Magazine
Issue 2
From randyzine.com: "RANDY is a personal and nepotistic project by A.K. Burns & Sophie Mörner, and this is our first gesture. RANDY is about the people close to us and the people we have yet to meet. It is a celebration and critique of the queer arts. It is feminist and vag-centric because that is a perspective we want to support."
In this issue: Leidy Churchman, Celeste Dupuy-Spencer, Nicole Eiseman, Corrine Fitzpatrick, Jules Gimbrone and Geo Wyeth, Daphne Fitzpatrick, Pauline Bourdry and Silvia Casalino, Hayden Dunham and Lessa Millet, Salvor Menuez, Jibz Cameron and Nao Bustamante, Jess Arndt and Elizabeth Bethea.
Softcover, 7 1/2 in. x 10 in. 65 pages, color and b&w on newsprint.
SOLD OUT!