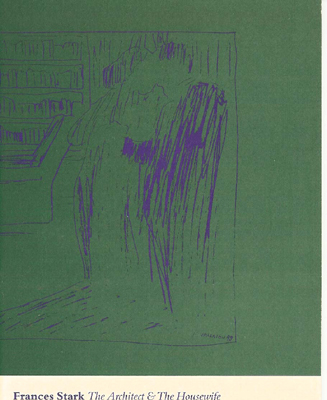 Frances Stark
The Architect & The Housewife
This book unfolds as a sequence of interrelated texts that consider, among many other things, the varying roles that gender acts out in contemporary art practice. Stark's wry, humane and often playful text examines the inherent tensions—both emotional and social—that operate at the juncture where the private and the public meet. She indexes a bewildering, seemingly infinite range of cultural references, that includes: Oscar Wilde's The Critic as Artist, Danish "Modern" furniture, domesticity, the studio, loneliness, consumerism, Ikea, the family, friendships, the spectacle, modernism, the avant-garde, Romanticism, architecture, Virginia Woolf's A Room of One's Own, home economics, public art, Daniel Buren, marriage, tattoos, R. M. Schindler, E.H. Gombrich and—perhaps most significantly—scatter cushions.
Softcover, 36 pages, 1999.
SOLD OUT! THIS BOOK IS OUT OF PRINT, HOWEVER YOU CAN FIND THE SAME TEXT WITHIN FRANCES STARK'S COLLECTED WRITING BOOK.