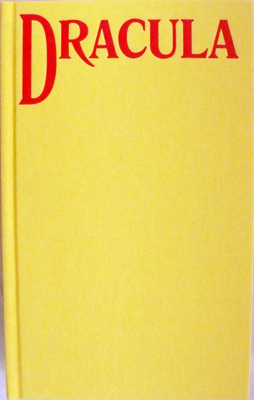 Bram Stoker, illustrated by James Pyman
Dracula

The second installment of Four Corners Books' ongoing series, featuring artists' responses to classic novels and short stories. Offering a fresh look at the tradition of the illustrated novel, each artist chooses a text to be reprinted in full alongside their newly created artwork.
This new edition of the most famous of vampire stories has been illustrated by James Pyman and has been designed by John Morgan, in collaboration with the artist. Pyman is already famed for his eerily exacting and hallucinatory draftsmanship, as well as for his relish for the exploration of book formats such as cartoon or children's books, and is therefore ideally suited to the illustration of this volume. Although the figure of Dracula has long loomed large in the public consciousness, for this edition Pyman returns to the original text, illustrating a line or phrase from each of the book's 27 chapters in a series of wonderfully sinister and weirdly clinical pencil drawings.
The novel, made up of a series of diaries, letters and newspaper cuttings, has been typeset by designer John Morgan with a different typeface for each character, the fonts based on those in use at the time of the book's original publication. The yellow clothbound cover and vivid red lettering echoes that of the first UK edition.
Hardcover, clothbound, 488 pages, 6.25" x 10", 27 duotone illus., England, 2009.
SOLD OUT!