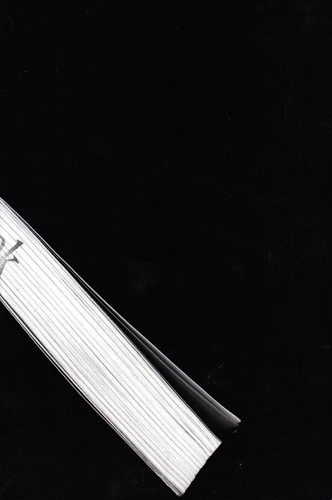 Sumi Ink Club
Freebook
Freebook is a very condensed and arbitrary archive of printed materials found in common areas of Facebook Inc.'s corporate campus at 1601 Willow Road, Menlo Park, California, during the month of November 2012.

From a message at the back of the book from author Luke Fischbeck: "When Facebook moved in - gradually, from mid-2011 on - the company asorbed, adapted, and accumulated much what Sun Microsystems, the previous tenant, had left behind. Famously, the sign at the entrance was simply flipped around, a new logo painted on the reverse. Walls, ceiling tiles, and carpet were removed, the floorplan left visible as raw, diagonal lines in the polished concrete Some Sun employees were even re-hired and kept on, ensuring a laered, continuous transition.

This symbolic layering continues beyond adaptive re-use: replicas of favorite restaurants and coffee shops from nearby Palo Alto and San Francisco were built on-site by Facebook for the exclusive employment of the expanding workforce. A company town was curated.
It's difficult not to read this careful coincidence of accident and purpose, continuity and precarity, into the found texts. Why this weird collection? What was lost, discarded, leftver, accidentally included - and how is it valued? What was purposefully donated by some share-minded past or present employee - and where does the compulsion to share begin?
Do these books, magazines, conference proceedings, and reference manuals, lumped together in picked-over piles tend towards becoming something more - a self-organiing library, a snapshot of the layered transition between corporate cultures? Maybe it's just too hard to throw a book in the trash."