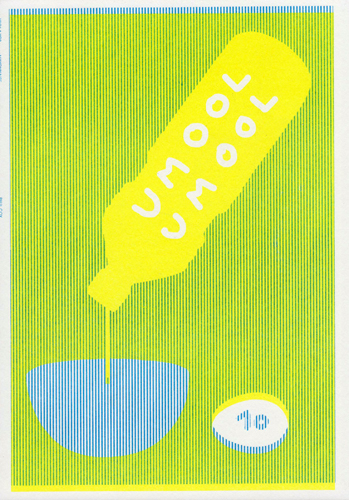 Umool Umool
Issue 10
In this 10th issue of umool umool, around 13 people inflicted by various positions are invited to describe their collaborative processes. The exact amount of persons we invited is implicitly difficult to tell owing to beings being sneaked in, (due to contributors inviting further guests themselves) or maybe this is caused by multiple roles, we just don't know.
What interests us is the 'behind the scene' moments within a collaboration process. For instance the breadth linking together simultaneous improvisation through to a long-distance commission between two or three or four or five or even more people. We are curious about the methods of an evidently multi-individual constellation existing parallel to fake identities. Formally, this results with a space of 16 pages for each contribution to reveal experiences, anecdotes, decisions, results, negotiations etc., according to the depicted topic.
Chemicals for mumbling, daily life by chance, from accumulating to welcoming, buddies' memories, necessary sufferings, bookshop as partnership, the definition with giraffe, black and white, scanner rewind camera, A to Z, danger vs. love and air drive short, pizza and jajangmyeon and single-handed twins.