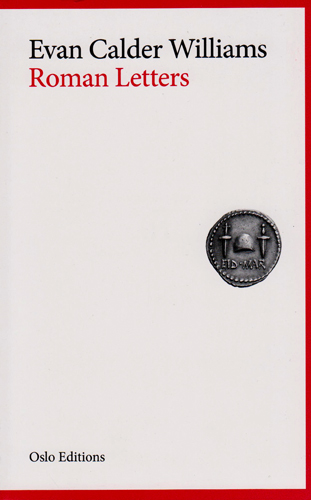 Evan Calder Williams
Roman Letters
The second volume from Oslo Editions, Roman Letters is a collection of urgent missives addressed to unnamed friends, written from Rome by Evan Calder Williams. Initially intended to pick up the thread of ongoing conversations and debates, Roman Letters pursues theory by epistolary means, swerving through philosophy, travelogue, polemic, prose poem, speculative fiction and political reflection. Set against the backdrop of Berlusconi's Italy and the ruins of late capitalism, Roman Letters traverses a landscape of its own design, passing from contingency to trains, dogs to wolves, tourists to partisans, graffiti to ashes, real estate to cities of the dead, ornament to bones, rage to swagger, and from pessimism to communism. A writer and theorist, Evan Calder Williams is also the author of Combined and Uneven Apocalypse (Zero Books, 2010).
Softcover, 4 3/8 x 6 7/8 inc. 144 pages, 20 b&w images, November 2011.
SOLD OUT!